What a year it's been for our SDCT community! From show-stopping events to nationally recognized students and faculty, there is so much to celebrate. As our sixth year comes to a close, we've highlighted 10 of our favorite moments and accomplishments.
Future23
Future23 was a showcase celebrating the launch of the next generation of creatives. For the first time, the Department of Design joined forces with the Department of Arts and Entertainment Technologies for a unique gathering of Austin's creative community. SDCT's talented, young innovators had the opportunity to show their work to their peers, families, and industry professionals. The evening featured the B.F.A. Design Senior Capstone Exhibition entitled In Flux, arcade game playtesting, a multimedia Lamborghini Countach replica, and many more impressive examples of student work. 
National Recognition
This year our Department of Design was recognized nationally as the #1 public graphic design school. Animation Career Review named The University of Texas at Austin's graphic design education as one of the best in the nation in several categories: Top 50 Nationally among Public Schools and Colleges (#1); Top 50 Nationally (#11, top 2%); Top 25 in the Southwest (#1); and Top 10 in Texas (#1). 
Additionally, two graduate design students were selected as national representatives of the Department of Design. Nominated by Design faculty, M.A. in Design focused on Health graduate Iya Abdulkarim and M.F.A. in Design graduate Libby Riddell were recognized for their outstanding talent. Both were named to Graphic Design USA's 2023 Students to Watch list.
Ready Tower One
In November 2022, SDCT made history by using the UT Tower as a video game screen through projection mapping. Department Chair Michael Baker, Assistant Professor of Practice Andrew Augustin, and AET student Marin Clarke produced the team-based game Tower Tumble for this unique event. The digital interactive experience was designed to work in conjunction with the Tower, rather than simply using the structure as a display surface. The different stone structures were incorporated into the game to allow players to feel as if their characters were actually traversing the Tower itself. The final result reflected this with various game reactions to the pull of gravity, sound that mimicked the Tower bells, and obstacles that aligned with the Tower's architecture. 
Ride The Synthwave
Ride The Synthwave was another notable night in November. The event, sponsored by Nelda Studios, was influenced by an 80s-centric and retro-futurism aesthetic. Students from the Department of Arts and Entertainment Technologies performed live Synthwave music throughout the evening with a coordinated lighting design experience on the outdoor stage. Other programming included outdoor game activations, a large Synthwave-inspired UV blacklight art installation with projection content in the Winship Lobby, and a full-scale projection lighting experience on the outside of the building. In the center of the event, a life-size multimedia Lamborghini Countach produced in partnership with the Texas Performing Arts Fabrication Studio and dadaLab featured custom lighting, audio, and video, including a showcase of immersive video content produced by students.
The evening culminated in an exclusive performance by seminal Synthwave band The Midnight. 
TEDxUTAustin
Inspiring members of our UT community gathered to share ideas at the sixth annual TEDxUTAustin conference. SDCT was well represented, with two out of the nine total speakers coming from within our community. Center for Integrated Design director and Department of Design professor Gray Garmon and M.A. in Design focused on Health graduate Iya Abdulkarim shared impactful lectures on designing for peace and learning through language differences, respectively. 
The theme for this year's event was "How & Why," which focused on the steps it takes to make dreams a reality. Garmon's topic featured his project Co-Designing Peace. This ongoing, collaborative effort focuses on designing thoughtful tools or methods that engage people in community or with the planet. For her lecture, Abdulkarim pitched a one-liner: "I'm going to teach you three words that will help you connect with three billion people." Her goal was to teach members of the audience the meanings of these words and how they can shape your mindset and outlook on life. 
Discover Texas @ SXSW
UT hosted one of its largest ever SXSW events this year, and SDCT got to be a part of the fun! On March 11, UT alumni, students, faculty and staff, and SXSW attendees were invited to "Discover Texas" at Banger's Beer Garden. The day's events included expert panels, scholarship presentations and networking opportunities, plus plenty of delicious food and drinks. 
The talent coming from SDCT was represented in a big way… literally. A 10-foot replica of the UT Tower was constructed to recreate the interactive experience demonstrated at Ready Tower One in November. Tower Tumble was featured alongside additional projection mapping content developed by dadaLab for the occasion. 
A piece of Ride the Synthwave also made its way to SXSW. The life-size Lamborghini Countach was parked onsite and featured Discover Texas-themed content on its interactive screens.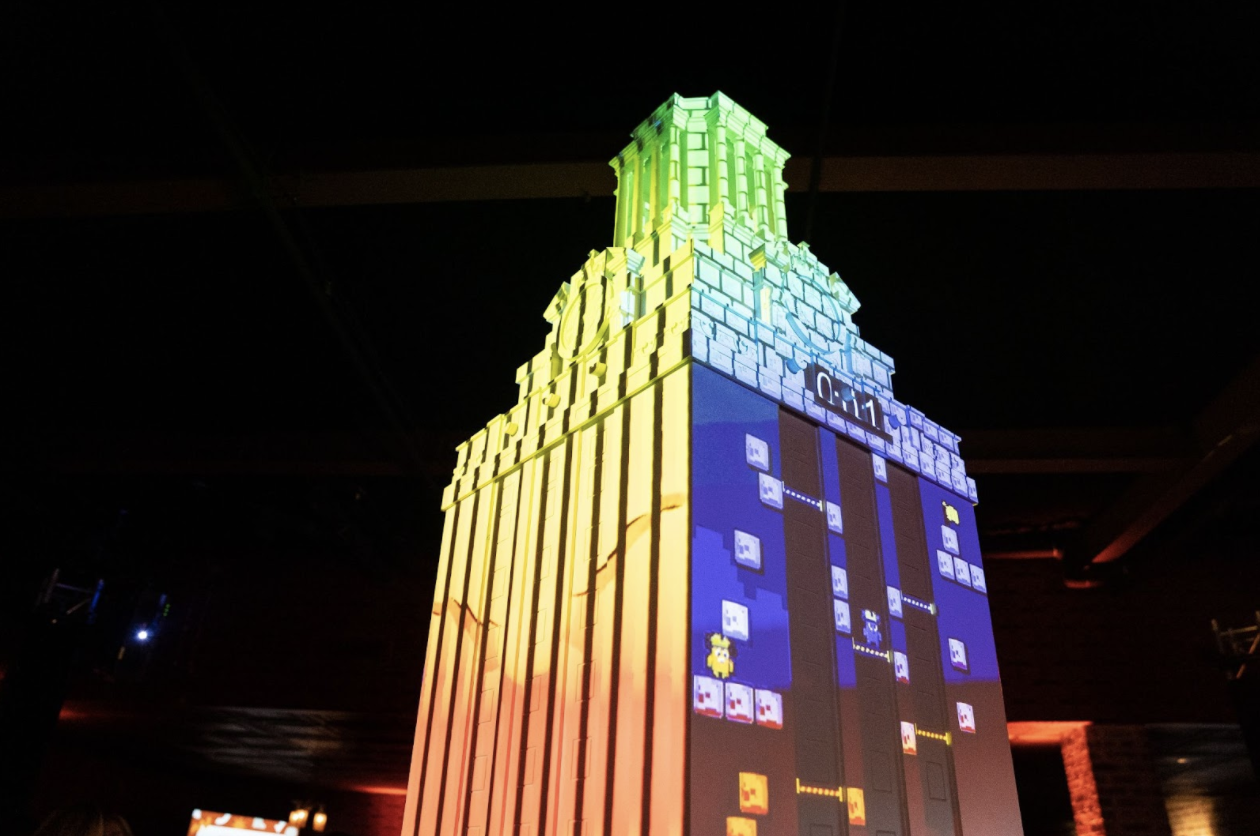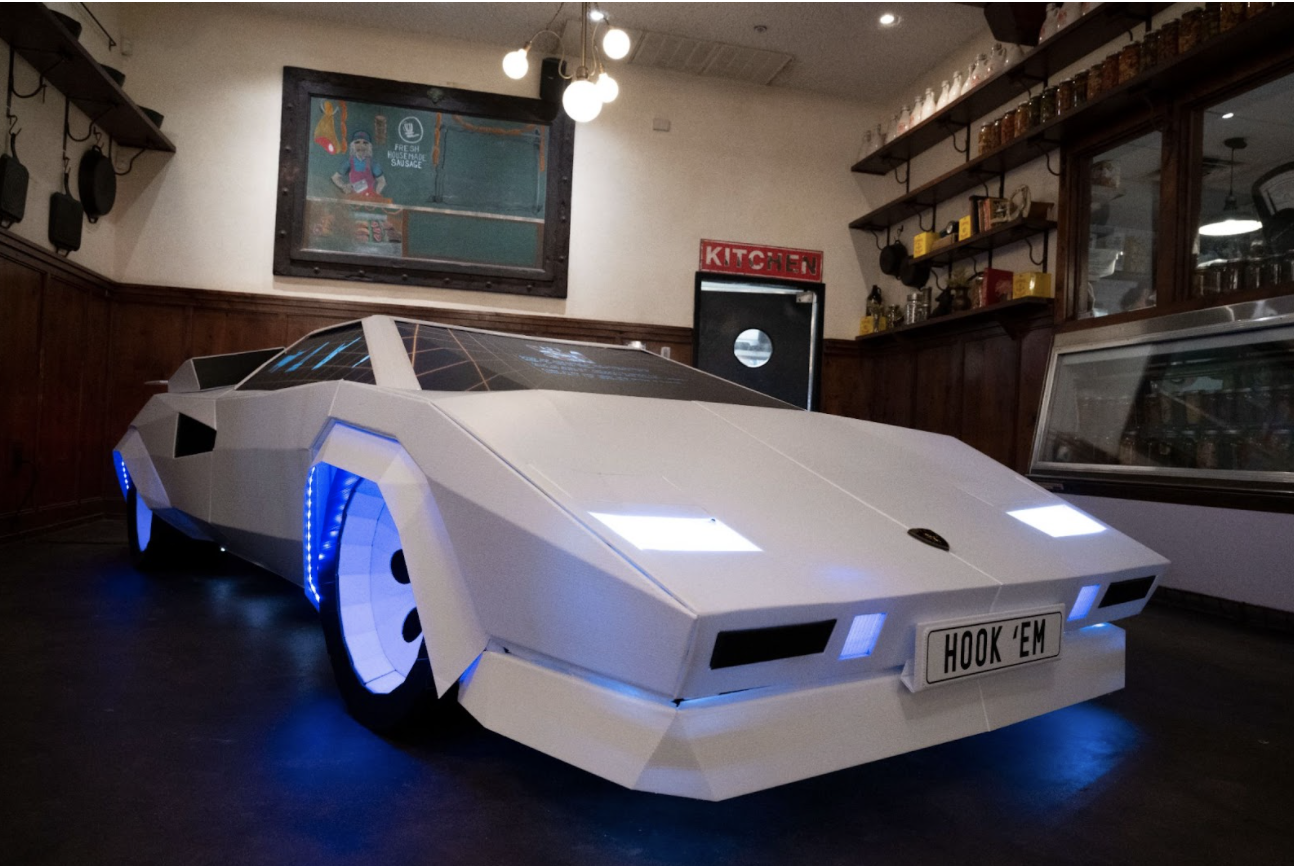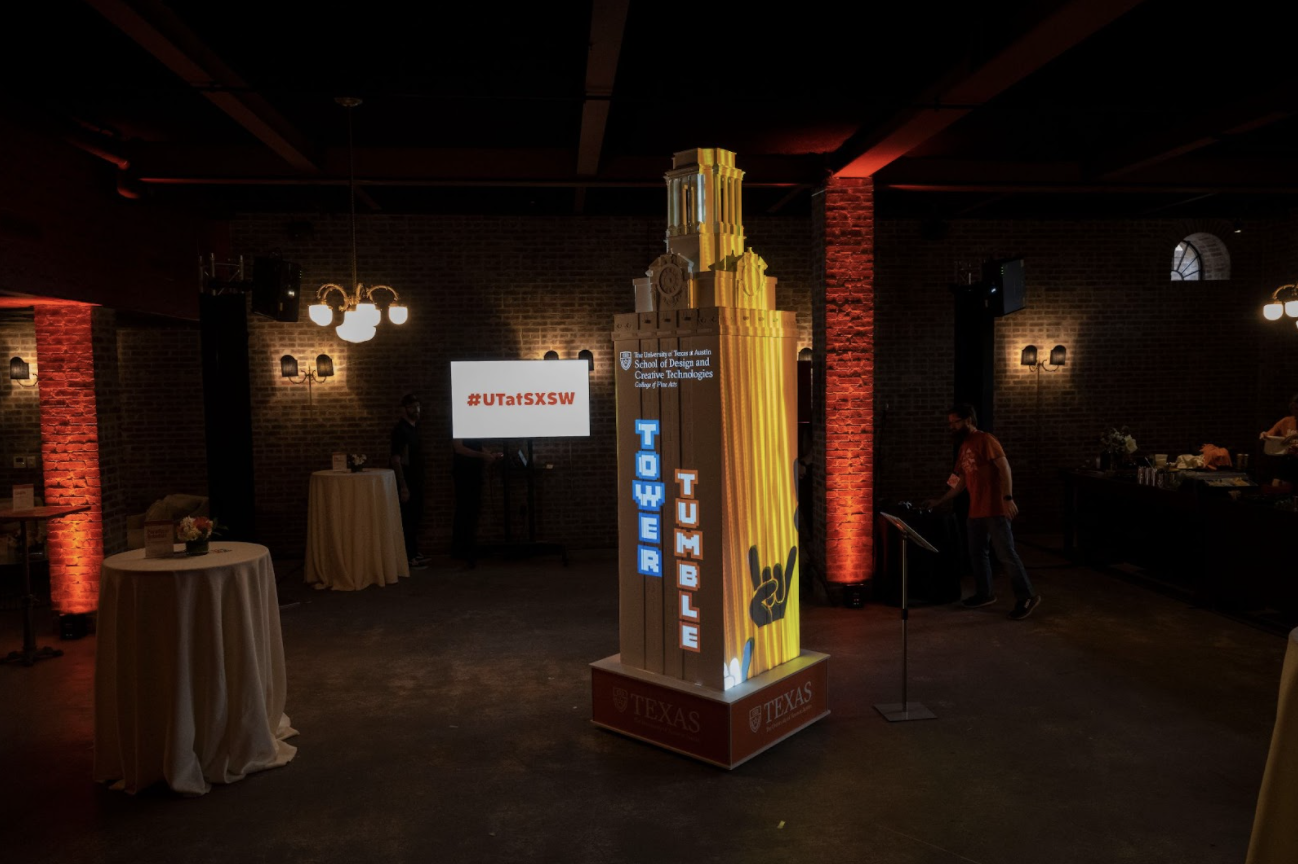 Speaker Series
Students, faculty, and members of Austin's creative community joined us to listen and learn from some of the most innovative thinkers in the fields of design and technology. This school year, the lineup for our Creatives on Campus and Buckman Center speaker series included: Aki Inomata, Lynn Hershman Leeson, Sasha Costanza-Chock, Paola Antonelli, Antionette Carroll, Kaleena Sales, Lauren Lee McCarthy, Cory Doctorrow, and Grimes. In partnership with Nelda Studios, Fusebox Festival, and The Museum of Human Achievement, we were able to host inspiring and thought-provoking conversations that covered topics ranging from the future of AI, designing for justice, and making big tech smaller. 
Career City Limits
SDCT Industry Relations' signature Career City Limits Speaker Series continued in its second year since launching in Fall 2021. This year's employers included top companies in design and creative technology such as ILMxLAB, H-E-B Digital, Rooster Teeth, Roblox, Epic Games, Powerhouse Animation, argodesign, Deloitte, and many more. Over 33 interactive employer info sessions, we saw:
998 students register

1 in 3 students register for 2 or more sessions

An average of 52 registrants per session

65% of top registrants were SDCT students

Students from programs outside SDCT including Informatics, Radio-Television-Film, Advertising, Psychology, Engineering, and more
We are so grateful to our generous partners for their continued support of our incredible students, and we look forward to future iterations of Career City Limits.
Becauseisms
This year's M.F.A. in Design Exhibition, Becausisms, transformed the Visual Arts Center into an exploration of the answer to the question "why do we design?" These designers took a look at the driving forces of their creative processes: the emotional, societal, and personal provocations. Their exhibition is a reflection of their intention and overall optimism stating, "We design because: clothing creates space for healing, home manifests in many ways, design can do harm, objects create connection, games drive rehabilitation, and knowledge empowers change."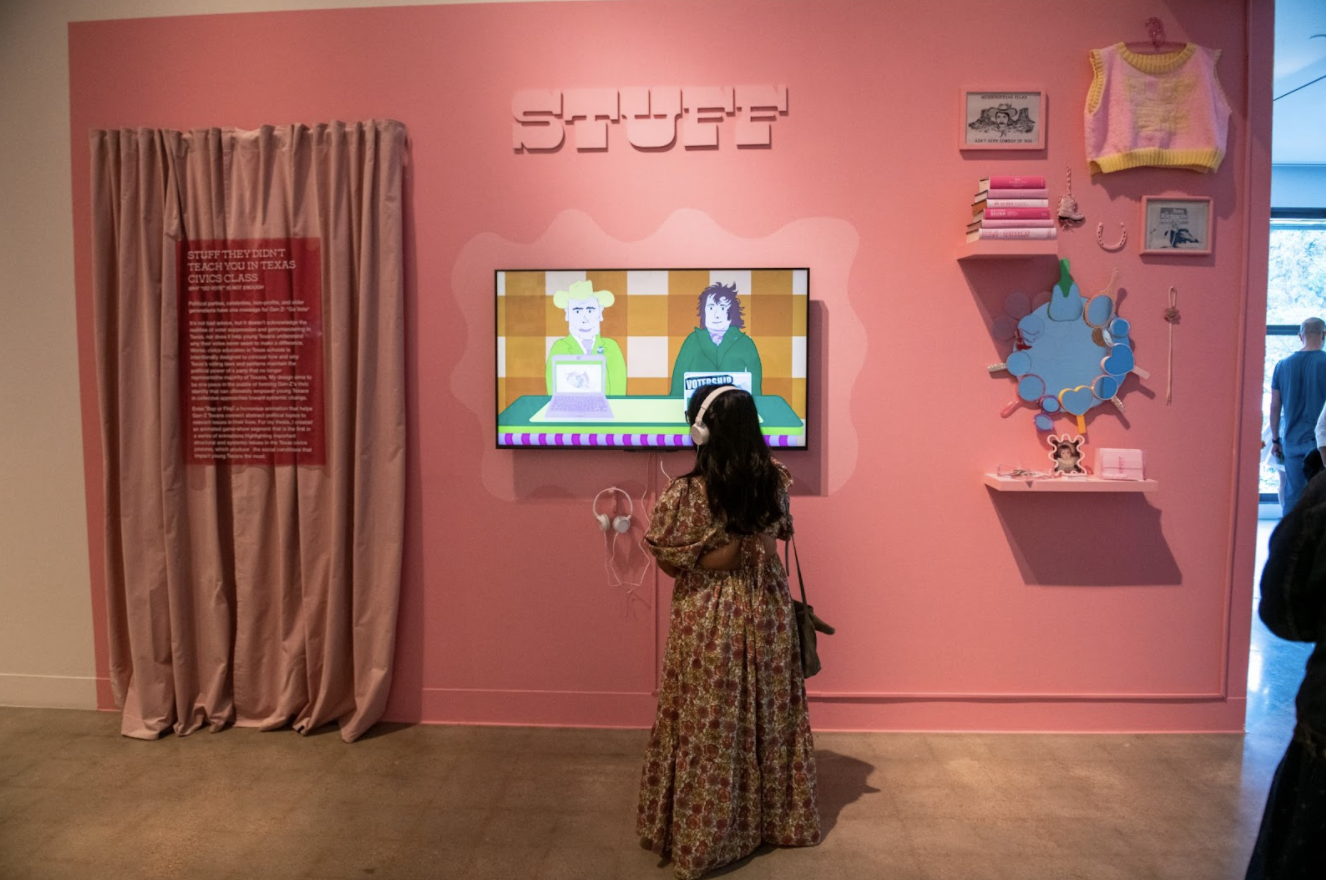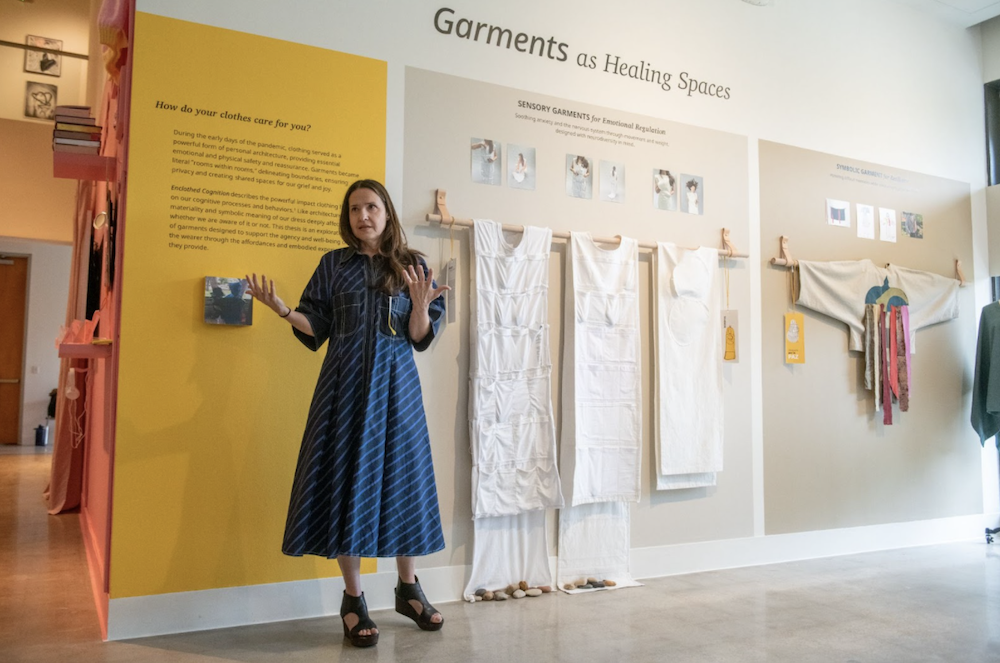 New Faculty
The College of Fine Arts welcomed an incredibly diverse cohort of faculty members in the 2022-2023 school year. Out of the 13 new career faculty members, six of them joined our SDCT community. The Department of Design welcomed Tasheka Arceneaux-Sutton, Michael Ray Charles, DiMitri Higginbotham, Vic Rodriguez Tang, and Byron Wilson. Meanwhile, Andrew Augustin joined the Department of Arts and Entertainment Technologies. We are excited to see how these talented new members of our faculty lead our students to success in the future.
Bonus: Website Redesign
After a year of conducting research, editing content, and reworking navigation, we launched our freshly redesigned website in December. New features include a dedicated Industry Relations section in the top-level navigation, an Operations portal for internal affairs, and an "Our Work" section to showcase some of the amazing projects coming from our students and faculty. We hope this new website provides a more holistic picture of the many offerings and opportunities available here at SDCT.