First & Second Year Foundations Sequence
All AET majors start the program with the Foundations Sequence, a series of six mandatory courses designed to expand your knowledge across the creative tech spectrum. This introductory coursework provides an opportunity to explore creative interests and work collaboratively in groups while developing the technical skills necessary to create new experiences with 21st-century digital technologies. Once completed, you can pursue upper-division courses that further sharpen your skills.
Foundations of AET
Introduction to the industries, practices, and concepts defining arts and entertainment technologies in the 21st century taught by experts in the field. The course focuses on contemporary and future concepts of Visualization, Music and Sound, Game Design, Experience Design, and Live Event Technologies.
Creative Coding
An introduction to applied computational thinking and logical processes for solving technical problems with creative solutions.
Art & Content
Foundational instruction for concepts, tools, and techniques related to creating digital imagery. This course is a rapid-paced introduction to effective visual storytelling using industry-standard software and processes.
Media & Technology
An introduction to tools and techniques used in operating computer systems, working with physical devices such as microcontrollers and sensors, designing interactive prototypes, and applying technical skills to a creative, collaborative project environment.
Design & Interactivity
An introduction to proven techniques for creating engaging interactive experiences paired with an exploration of the historical, contemporary, and future contexts of design practice.
Sound & Space
An introduction to industry standard design and technology for concert lighting, event lighting, embodied experiences in physical spaces, immersive live performance, and other projects living in physical spaces. Tools used include Ableton and Hog4.
Upper-Division Coursework
With a focus on interactivity, AET courses cover a wide range of creative technology subjects that combine art, design, and technical skills. How you approach selecting classes to meet your upper-division requirements is totally up to you. You can tailor your plan to build a deep knowledge base and skill set in one creative area, or you can mix and match across the 5 concentration areas of AET to build a multi-disciplinary skill set. The plan is flexible so you can explore the latest thinking and new course offerings inspired by your future industry. Click on the below concentration areas for more information including suggested courses.
Experience Design
Experience design is a broad field focused on the look, feel, and substance of digital and physical products, services, and events. Experience designers mix user-centered design, storytelling, and technology to create unique and impactful cross-platform experiences for a wide variety of applications such as theme parks, retail environments, architectural spaces, and entertainment services.
Intro to Narrative
Themed Entertainment Design
Mixed Reality
Interactive Environments 3
Narrative Design 1
Cross Platform Storytelling 1 3
Live Event Technologies
Live event technologies include pre-programmed and interactive lighting, audio, and video projection technology needed to bring live events to life in physical space. Live event technologists collaborate with creative directors and performers to design high-impact entertainment and immersive events.
Previz Live Entertainment
Next Level Arcade
Projection Mapping
Digital Fabrication
Scene Painting
Concert & Event Lighting 1
Live Event Engineering 1
Game Design
Modern game design is a truly multidisciplinary process built on collaborative teams who use interactive design, storytelling, and technology to create rich virtual worlds. Game designers work with interactive systems, platforms, and services to create compelling play experiences for a wide range of audiences.
Level Design
Game Scripting
Game Prototyping
Game Development 3
Mobile Game Development 1
Physical Game Design 1
VR for Games 1
Procedural Generation for Games 1
Game System Design 1
Challenges in Game Design 1
Music & Sound
Music and sound design are essential for interactive entertainment, immersive storytelling, and live events. Composers and sound designers use hardware and software technology to create music, ambiance, and sound effects that bring events, games, and experiences to life.
Audio Processing
Audio Coding
Generative Audio
Virtual Instruments
Immersive Audio 3
Interactive Music 1
Sound Design 1,3
Computer Music Project 1
DIY Synthesizer Lab 1
Visualization
Visualization in AET includes previsualization, 2D and 3D graphics, animation, real-time technology, creative coding, and user interface design. Visualization artists synthesize data, write code, and create graphical content in multiple formats for interactive, digital, and physical experiences.
Visual Storytelling 3
3D Modeling & Texturing 2
3D Materials & Lighting 2
Principles of Animation
Game Character Animation 2
Realtime Pipeline
User Interfaces 3
Technical Art I 1,2
Advanced Creative Coding 1,3
Arts & Entertainment Topics (Lower & Upper Division)
Topics courses are experimental and future-focused. They are often based on industry trends, collaboration opportunities, cutting-edge practices, or unique individuals working with creative technologies. New courses are added regularly.
Digital Experience Design Studio
Storytelling with Mini Golf
Next Level Cosplay
Next Level Arcade
Toy Making for Tomorrow
Virtual Production
Humor in Storytelling
Circular Fashion Design
Future of Gaming
Challenges in Game Design
Projects (Lower & Upper Division)
Independent and collaborative projects are essential for AET students. These courses provide opportunities for students to practice their skills and get hands-on experience with teams and partnerships.
AET Studio
Industry Partnership
University Partnership
College Collaboration
Independent Study
Senior Design Project 4
Game Dev Capstone 4
---
Advanced course prerequisite: 3 upper division courses in a category
Repeatable
New course
Satisfies Senior Project degree requirement
Current AET Courses
We offer a wide range of courses designed to expand your knowledge across the creative tech spectrum. Take a look at our current AET course offerings to see what topics interest you most.
AET Student Showcase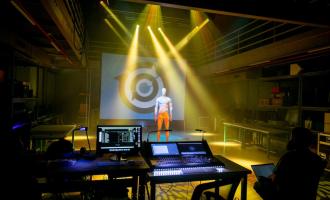 Our students mix user-centered design, storytelling, and technology to create unique and impactful cross-platform experiences. Get a feel for each concentration by exploring student projects.
Explore AET Student Work