Undergraduate
External Transfer: March 1, 2023
Internal Transfer: May 1, 2023
Graduate
M.F.A. in Design: January 25, 2023
M.A. in Design: March 6, 2023
Come & Visit Us
Get a behind-the-scenes look at our program and creative spaces in Austin.
Creativity at Work
Graphic design, immersive media, digital technologies, and more.
Get Career Ready
From internships to jobs, we'll help you jumpstart your career.
Tuition & Funding
Find out more about investing in your future through an education at UT.
Upcoming Events
Science fiction author, activist and journalist Cory Doctorow visits SDCT to speak on "Seize The Means Of Computation: A Big Tech Disassembly Manual."
Grimes, Mac Boucher and Daouda Leonard sit down with SDCT Assistant Dean Doreen Lorenzo.
Featured Story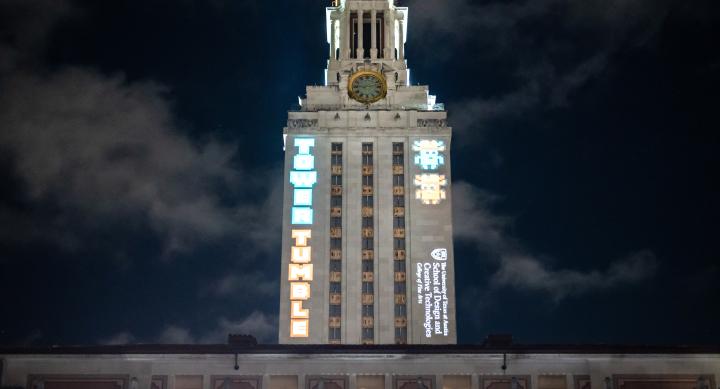 SDCT projects video game on UT Tower, looks towards future of immersive experiences on campus
From Campus to Career
Design student Khalil J. Davis presenting his work during the Fall 2022 Sophomore Review in the Department of Design at UT Austin
Kahlil J. Davis, B.A. in Design
"The industry is always changing and SDCT reflects that in our classes to keep students on top. I also like that early on SDCT faculty and professors encourage you to start networking, getting internships and they keep you focused on the industry."
Class of 2022 AET graduate Grace Troutman in her stole and cowgirl hat in front of the UT Austin tower
Grace Troutman, Global Creative Strategist at TikTok
"Now recently graduated, I wanted to thank you and express how [SDCT] was the first place at UT that really scratched the itch I was looking for in college that matched my passions."