Important
Admission
Deadlines
Undergraduate
First-Year: December 1, 2023
External Transfer: March 1, 2024
Internal Transfer: May 1, 2024
Graduate
M.F.A. in Design: January 25, 2023
M.A. in Design: May 22, 2023
Come & Visit Us
Get a behind-the-scenes look at our program and creative spaces in Austin.
Creativity at Work
Graphic design, immersive media, digital technologies, and more.
Get Career Ready
From internships to jobs, we'll help you jumpstart your career.
Tuition & Funding
Find out more about investing in your future through an education at UT.
Featured Stories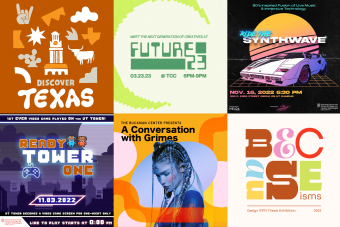 What a year it's been for our SDCT community! From show-stopping events to nationally recognized students and faculty, there is so much to celebrate. As our sixth year comes to a close, we've highlighted 10 of our favorite moments and accomplishments.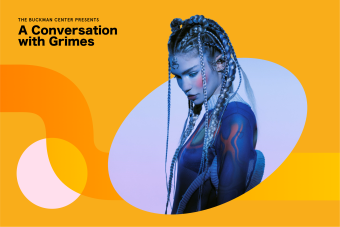 The Austin Chronicle
The electronic pop musician Grimes, who has lived in Austin since 2021, was initially booked to speak at UT Austin on April 5. She rescheduled due to illness for April 24. Lucky for the returning crowd, the intervening weeks allowed for percolation of a music industry kerfuffle of particular interest to the speaker.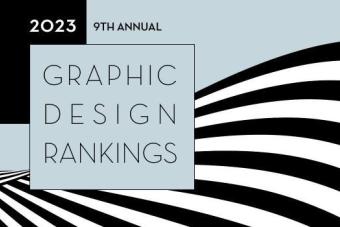 Animation Career Review
Animation Career Review has recognized The University of Texas at Austin graphic design education as one of the best in the nation: Top 50 Nationally among Public Schools and Colleges (#1); Top 50 Nationally (#11, top 2%); Top 25 in the Southwest (#1); and Top 10 in Texas (#1). 
From Campus to Career
Design student Khalil J. Davis presenting his work during the Fall 2022 Sophomore Review in the Department of Design at UT Austin
Kahlil J. Davis, B.A. in Design
Class of 2022 AET graduate Grace Troutman in her stole and cowgirl hat in front of the UT Austin tower
Grace Troutman, Global Creative Strategist at TikTok