Arts and Entertainment Technologies student performing original music live at Ride the Synthwave event sponsored by Nelda Studios
Explore computer requirements, UT student organizations, and our most frequently asked questions about AET, all right here.
Hardware and Software Recommendations
To fulfill the requirements of our degree plan, incoming students will need a personal computing device and software that meets our technical specifications. Our recommendations are evaluated annually to align with our coursework and the latest industry technology. We want our students to be set up for success from day one with the right tools at their fingertips.
Laptops & Hardware
Recommended Manufacturers: Gigabyte, MSI, Razor, Asus, Alienware, Dell
Note: we DO NOT recommend Apple hardware due to graphics limitations and software compatibility problems. Students using Apple hardware may be unable to complete some class assignments.
Component

Minimum

Recommended

Advanced

Processor (CPU)

Intel i7 quad core or AMD equivalent

Intel i7/Xeon/i9 six core or AMD equivalent

Intel i7/Xeon/i9 six+ core or AMD equivalent

Memory (RAM)

16 GB

16+ GB

32+ GB

Hard Drives

500+ GB SSD
2 TB SATA Storage

1 TB SSD
2 TB+ SATA Storage

1 TB+ SSD
4 TB+ SATA Storage

Video Card (GPU)

4 GB NVIDIA GTX 1650
or AMD equivalent

6 GB NVIDIA RTX 2060
or AMD equivalent

8 GB NVIDIA RTX 3070
or AMD equivalent

Screen Size

13 inch

14-17 inch

15-17 inch

Peripheral Connectivity

USB 2.0/3.0/3.1/C HDMI, Thunderbolt

USB 2.0/3.0/3.1/C HDMI, Thunderbolt

USB 2.0/3.0/3.1/C HDMI, Thunderbolt

Warranty

3 year

3 year+

3 year+

Expected Lifespan

2-3 years

3-4 years

4-5 years
Peripherals & Services
In addition to a laptop, the following are strongly recommended:
External Mouse: 3 button minimum. 5 button is recommended.
Automatic Backup Service: Carbonite, Backblaze, or similar.
External Monitor: 24-27 inch, color corrected, HD1080, 2K, or 4K resolution.
Software
AET students build proficiency with a variety of creative applications while in the program. Students must check with individual instructors regarding any specialized software necessary to complete coursework, as it will vary by class. A few that you may use while in the program are included below for reference.
Campus Computer Store
Once new students have been issued their official UT Austin student identification cards, they are eligible to purchase computers with educational discounts at the campus computer store. Students with paid tuition and fees receipts for the semester are eligible to purchase the software.
Frequently Asked Questions
I like the idea of a flexible degree, but how will I know what courses to take?
Our coursework is frequently updated to keep pace with the latest emerging technologies and provide you with new opportunities to expand your knowledge across the creative tech spectrum. We work closely with industry partners to ensure course content is up-to-date, interesting, and professionally relevant. Students are supported by mandatory academic advising, course updates published each semester, and our faculty are always available to recommend options to support your career goals.
Why should I choose a degree in AET?
If you're passionate about combining coding, audio, and digital art for video games, live performances, or events, then AET could be a good place for you. It's a mix of all these elements that make up the coursework for a degree in AET. We use many of the same programming tools that you'll find in Computer Science, but we don't offer an engineering degree and our grads are not qualified for software engineering jobs. Many AET students who want additional coding experience add the Elements of Computing minor. Audio technology and sound is also an important part of our curriculum. While we offer a few courses that integrate musical composition, the heart of AET is about interactive experiences, not music. We also offer many courses focused on digital art (visual storytelling, 3D modeling, motion graphics, animation). These courses are generally focused on content creation for video games and other real-time media delivery systems. Students interested in fine art skills can add a Studio Art minor.
Can I focus on illustration, animation, graphic design, or concept art in AET?
The heart of AET is about integrating design, code, and content to create interactive and immersive experiences. Illustration, animation, graphic design, and concept art are used in many courses as part of the pre-production and production process. However, there is no dedicated course sequence that solely supports these disciplines.
Will I be able to find a job with my degree?
AET provides access to industry-relevant coursework, experienced faculty, professional connections, and an opportunity to combine creative and technical skills to support your career interests. Finding a job involves many factors beyond just a degree. Documenting and sharing a professional portfolio of work, networking with industry professionals, and researching job opportunities are all part of charting your career path. Demonstrating team collaboration and communication skills are crucial for any prospective employer. We also have a dedicated industry relations team that will help provide you mentorship and opportunities, as well as Career Services which will provide resources and coaching for your job search.
How may I internally transfer into the B.S. in AET degree?
Please see our admissions section for pertinent info.
Can I have two majors (simultaneous majors)?
Yes, the Department of Arts and Entertainment Technologies officially allows simultaneous majors. Please note that this does not change the admissions requirements for AET or other programs. For those interested in pursuing a double major, be sure to meet with your academic advisers to ensure you can complete the requirements for a dual degree.
Can I minor in Arts and Entertainment Technologies?
AET does not offer a minor. We do offer a Bridging Disciplines Certificate in Digital Arts and Media.  Students should talk to their academic advisor about options for officially recognized minors and Bridging Disciplines Certificates offered at The University of Texas at Austin.
Who can I contact with questions about my degree plan and courses?
For more information on degree advising and course registration in AET, please contact your Undergraduate Academic Advisor.
Careers in Creative Technologies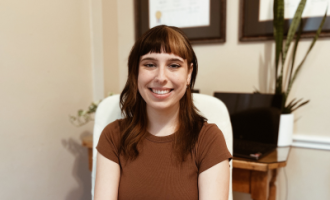 One of the exciting aspects of arts and entertainment technology fields is that new jobs are constantly being created. We've seen the adoption of game technologies across multiple sectors such as architecture, automotive, consumer goods, and healthcare. We've also seen experience design lead to innovation in retail, events, and travel services. Our program builds your creative talents in interactive design, immersive media, and themed entertainment to excel in these new economies and the world.
Explore Career Opportunities
Labs & Locations
AET is housed in the William E. Doty Fine Arts (DFA) building with flexible teaching spaces, resource libraries, maker spaces, and state-of-the-art labs ready for you to visit.
View Spaces & Hours