photo of UT Tower at night with video game Tower Tumble and SDCT logo projected onto it
Welcome to SDCT
The School of Design and Creative Technologies provides transformative educational experiences and opportunities that shape ambitious thinkers for a dynamic future. We are part of a top Tier One research university embedded in a vibrant creative community deep in the heart of Austin, Texas. Our industry-focused approach combined with research fuses design thinking with emerging technologies, so students are prepared to thrive in an ever-changing world. Here, we value diversity in all forms and encourage our students to push beyond where their creative boundaries stand today to make an impact on the generation of tomorrow.
We have two degree-granting programs: the Department of Arts and Entertainment Technologies and the Department of Design, as well as programming open to all UT students through the Center for Integrated Design.
"Our goal is to prepare students for the jobs of today and the future."
— Doreen Lorenzo, SDCT Assistant Dean
Featured Stories
On the first day of his high school technical theater class, Professor Matt Smith's teacher pointed up. 17-year-old Smith craned his head back to the theater's high ceiling and observed what would be life-changing light fixtures. His teacher informed the class that, simply put, people have careers in designing the movement and placement of lights.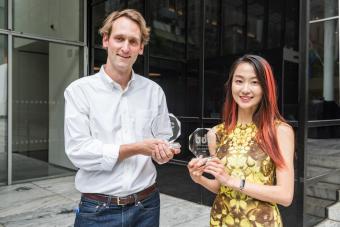 This summer, SDCT tackled record-breaking temperatures and swept industry-leading awards. Jiabao Li (Assistant Professor of Design) won Outstanding Instructor at the Biodesign Challenge Summit (BDC) 2023. Her student Brad Hakes (M.F.A. in Design) secured Runner-Up for the competition with his project "Orbweaver."
View all News