People are doing a design critique
Bridging Disciplines Programs allow you to earn an interdisciplinary certificate that integrates area requirements, electives, courses for your major, internships, and research experiences.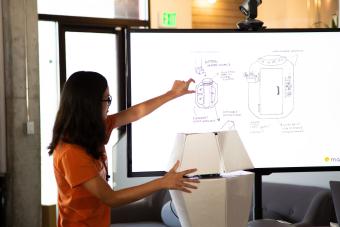 Design Strategies
In collaboration with the Center for Integrated Design, the Design Strategies BDP engages you in a design process that includes research and insights, creative problem solving, prototyping and testing, and implementation and presentation — all while learning to apply a critical lens to the social context in which design takes place.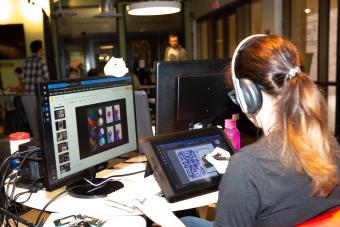 Digital Arts & Media
The Digital Arts & Media BDP is designed to guide students toward careers in entertainment and commercial media through a unique mix of courses from Fine Arts, Radio-Television-Film, Computer Science, Humanities, and Engineering. Explore and create work that pushes the boundaries of traditional disciplines and media.