Photo of graphic poster designs created by M.F.A. in Design student for mid-year review
Get in Touch
Graduate Coordinator
About the Program
The M.F.A. in Design at The University of Texas at Austin is a full-time, on-campus, 21-month graduate program for highly motivated, intellectually curious designers. In this program, you'll develop a design process to creatively solve complex 21st-century challenges from health and wellbeing to social justice, sustainability, education, and more. Our rigorous studio and project-based courses are taught by award-winning design practitioners who emphasize design-led research, critical inquiry, prototyping, and advanced making skills to help you gain real-world experience that can be applied to a variety of global contexts.
Get Your Master's Degree in Design
Apply for the 2024-2026 M.F.A. in Design cohort by January 24, 2024
Dive Deeper Into the M.F.A.
M.F.A. Student Showcase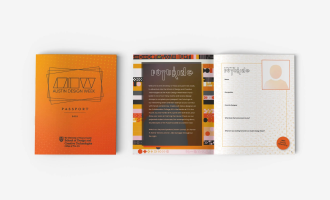 Our students mix user-centered design, storytelling, and craft to create unique and impactful cross-platform experiences that reshape the future.
Explore More Design Work