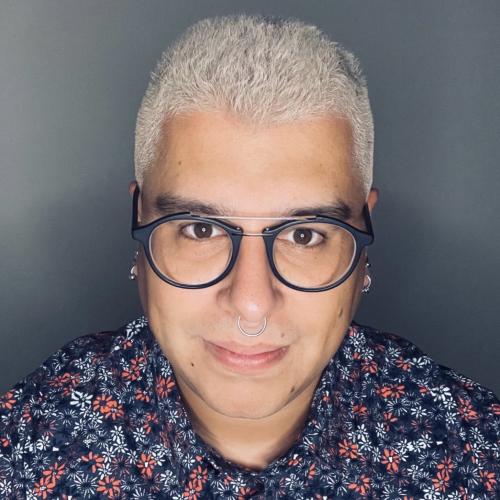 Assistant Professor of Practice, Design

VCFA's Center for Arts + Social Justice Fellow
Vic is a Peruvian-Chinese queer creative human from Lima, Peru, living in Austin, Texas. They received their M.F.A. in graphic design from Vermont College of Fine Arts in the spring of 2022, and they have been working as an educator, designer, and art director in Texas since 2008. Their creative approach always comes from an empathetic angle or reaction to issues they have personally experienced as a queer, nonbinary, immigrant, Latinx human being with a disability living in America. The areas of concentration of their research, passion projects, and community service-based work have always focused on using design principles and design thinking to problem-solve and bring awareness about issues faced by vulnerable communities.
Vic's current research focuses on the effects of gendering design elements throughout the years, such as typefaces and colors, within the design and advertising industry. They do this by unpacking visual gender biases using orthodox and unorthodox design explorations to test their findings. Their outcomes, influenced by queer design history, usually challenge visual gender stereotypes in design, question heteronormative standards and patriarchal practices, and explore ways to "queerify" graphic design. Vic's work has been recognized by Fast Company, The Dallas Society of Visual Communication, The One Show in New York, HOW's Logo Awards, and HOW's International Design Awards.
Contact Information
First-Generation College Graduate