About the Lambo
This life-size Lamborghini Countach includes custom features and interactive screens designed to highlight the full range of creative programming offered by the Department of Arts and Entertainment Technologies. From projection mapping to creative coding, sound design, and 3D visualization, the "Lambo" is a new platform for ongoing exploration and immersive content development. The coroplast model car was a collaborative effort designed in partnership with the Texas Performing Arts Fabrication Studios and dadaLab.
On November 16, 2022, the Lambo made its public debut at SDCT's Ride the Synthwave event sponsored by Nelda Studios. Learn more about the event below.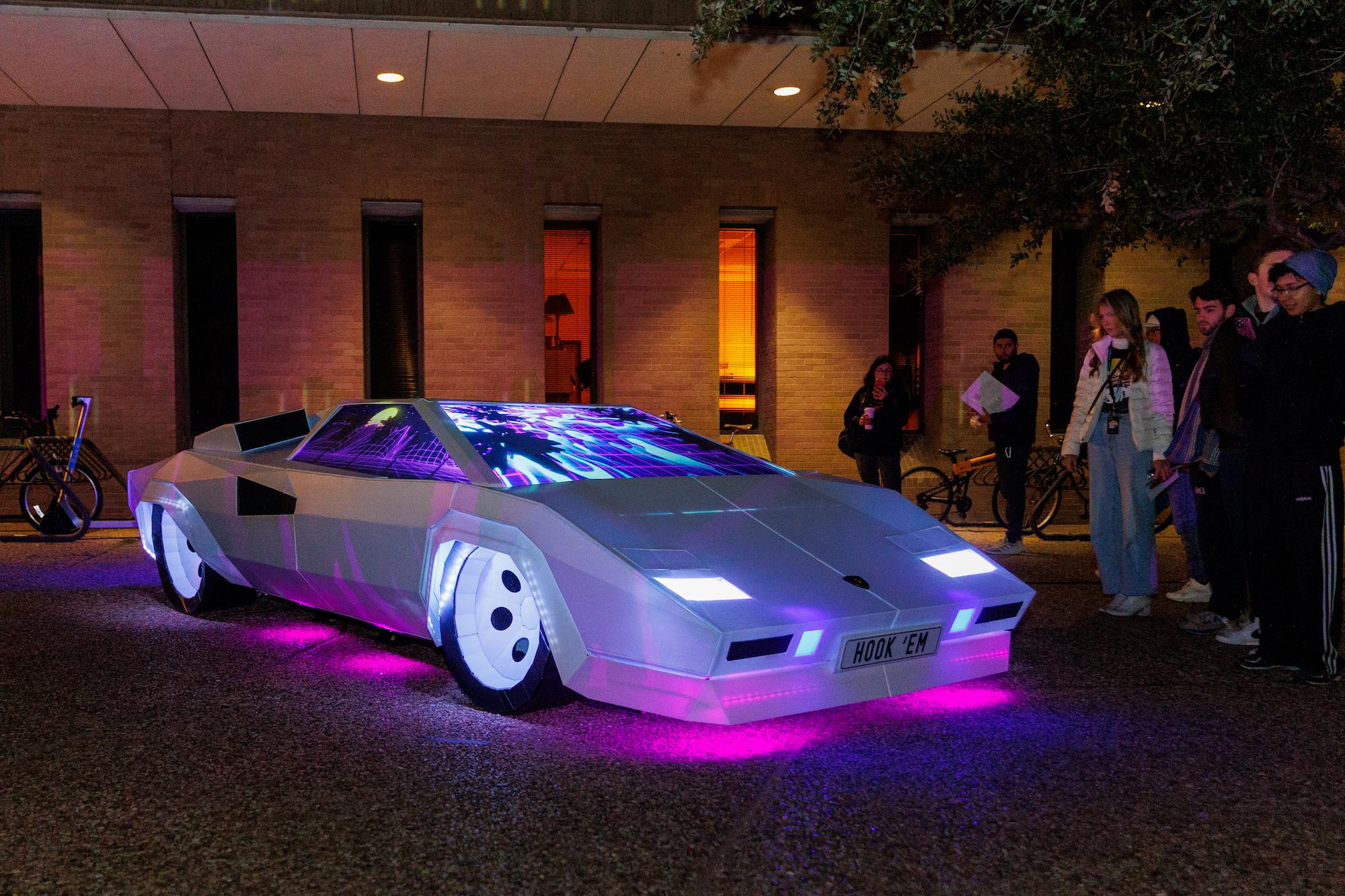 Project Details
Credits
Student Content: Isabelle Avena, Mark Detrick, William Doo, Jalin Johnson, Jesse Reinhard, Lajeeth Thangavel, & Miguel Villarreal
Concept Design: Eric Freeman
Content & Design: Kyle Evans, dadaLab & David Syndiongco
Fabrication: J.E. Johnson, Matt Smith, and Texas Performing Arts Fabrication Studios
Fabrication Students & Staff: Leah Austin, Zoe Bihan, Kat Clark, Bridgette Clifford, Sydny DeMeyer, Matthew Garcia, Daniel Geld, Tere Guerrero, Carolyn Hardin, Jason Huerta, Roxolana Krywonos, Austin Luchak, Karen Maness, Jonah Maughan, Ashton Murphy, Hannah Nelson, Tenzing Ortega, Anthony Pinder, Morgan Randall, Alex Rockey, Hannah Shepard, Hank Schwemmer, David Tolin, Rylee Vines
Concept: This is a full-scale version of the original "Printach" paper model by Taras Lesko.