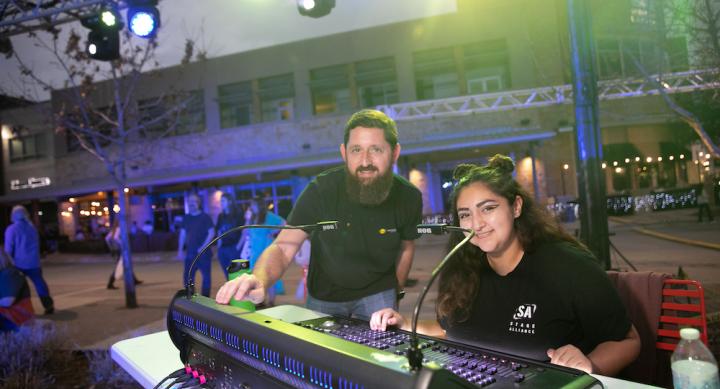 By Neerul Gupta
On the first day of his high school technical theater class, Professor Matt Smith's teacher pointed up. 17-year-old Smith craned his head back to the theater's high ceiling and observed what would be life-changing light fixtures. His teacher informed the class that, simply put, people have careers in designing the movement and placement of lights.
"Woah, wait a minute," Smith recalled thinking. "You mean you're going to pay me money to climb a ladder really, really high and touch lights and move them around? That sounds really exciting. Tell me more."
Smith's fascination with fixtures blossomed into a career in production design and live events. He holds an M.A. in Communication from Angelo State University and an M.F.A. in Theatrical Design and Technology from UT. Post-M.F.A., Smith's alma mater was lucky enough to keep him on as a full-time lecturer and project designer.
Smith's pedagogy places students at the forefront of innovation and emphasizes creative self-exploration. In November 2022, his teaching and design talents largely contributed to a celebration of dance, video games, and music at UT.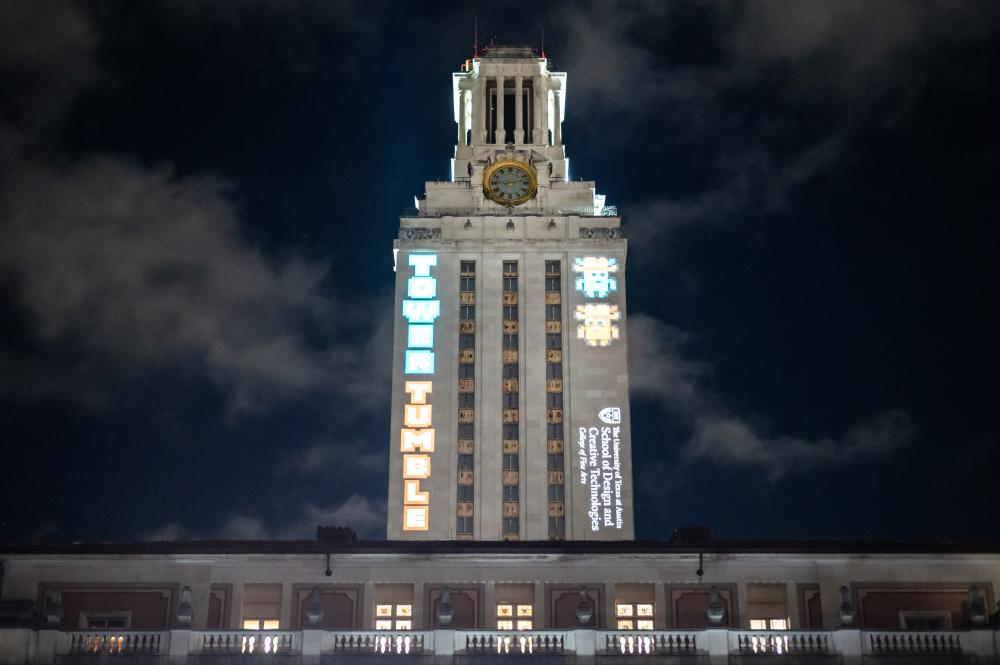 At the Level UP student showcase, one of Smith's students proposed an interactive game that projected the silhouettes of participants' dance moves onto the UT Tower. UT Executive Vice President Sharon Wood was enthralled by the project, subsequently launching conversation between the President's Office and the Department of Arts and Entertainment Technology (AET). The result? A two-day University-wide party.
On November 3, 2022, Tower Tumble came to life. Over 100 students and faculty raced against the clock and across 29 floors to collect flags in this Tower-projected interactive video game.
Smith optimizes creative freedom on every class project, ultimately leading to innovation like Tower Tumble, and he sustains great pride in his students. "The satisfaction of watching one of your students successfully execute a design project cannot be overstated. Being able to observe the gratification students experience as they watch their hard work 'come to life' in front of a public audience is something special and I feel unique to this type of work."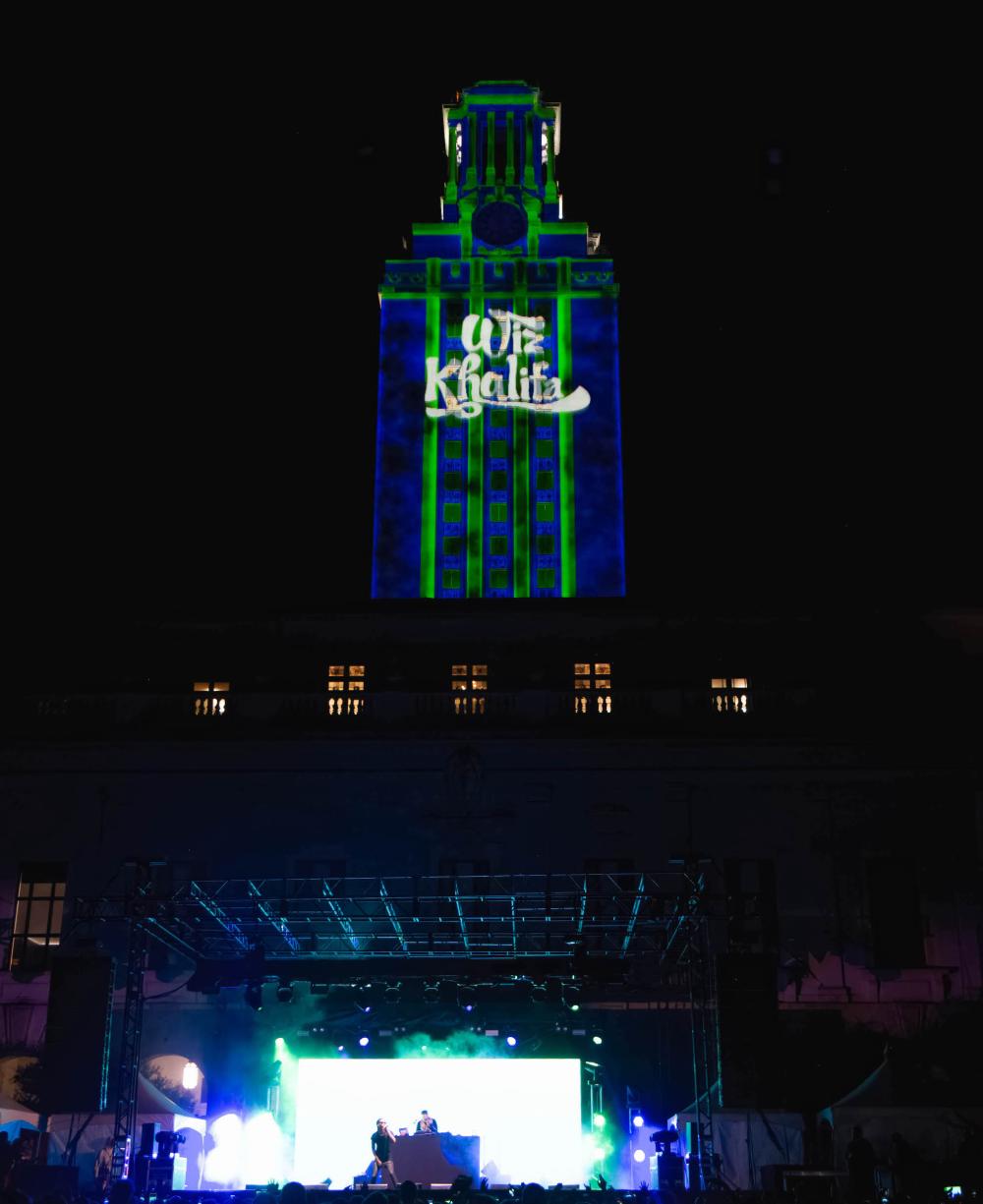 On November 4, 2022, the show went on: Wiz Khalifa came to town. Throughout the evening, Smith and a projection team, students included, casted architecture-accentuating visuals on the Tower. They manipulated the content in real time as two openers and Khalifa lit up the stage. True to his student-centered mindset, Smith exclaimed, "This project was most exciting for me due to the immediate proximity to campus, allowing for an increase in student involvement" and thus "providing those students with hands-on experience and an in-depth look at the real-world logistics of producing an event of this scale."
Smith's leadership has continued to shine in and outside of the classroom. This past spring, he served as the Content Director for the CMT Music Awards, where he ensured quality content for the L.E.D. surfaces. Smith provided specific content instructions and maintained constant communication with production teams inside the Moody Center, where the event was held, and off-site. "This project is significant to me because it was the first time I have been able to work on a project of this scale in the City of Austin," Smith noted.
Smith brought two students in during rehearsals and performances to enrich their production knowledge and experience.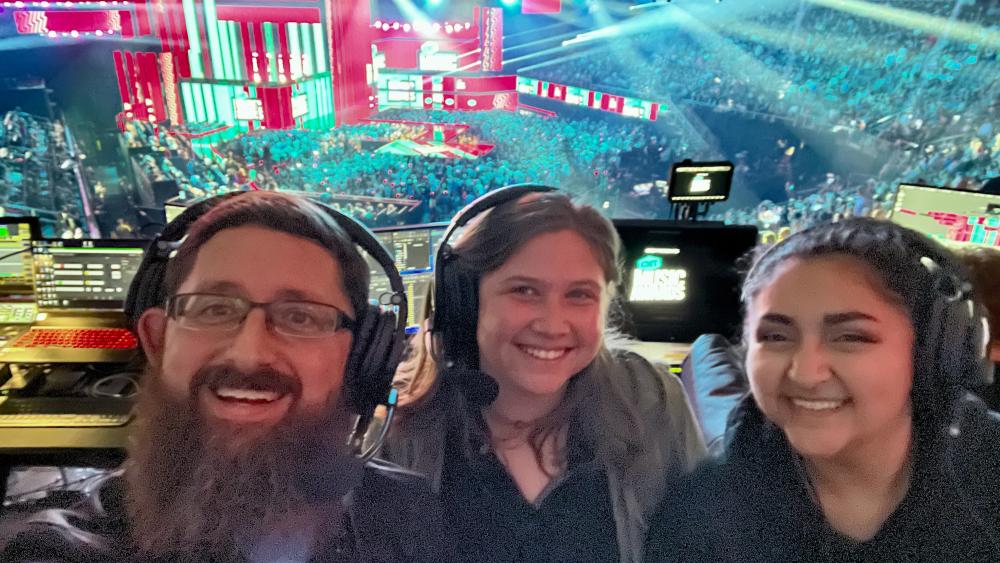 "Often working productions like the CMT's takes me away from campus, so having the ability to remain on campus and to be provided with the opportunity to bring students into the venue was quite special for me."
And at the core of Smith's teaching, mentorship, and design career is one persisting value: risk-taking. Technology advances fast, so what was taught a few months prior may become obsolete. But Smith is confident. While working in design requires continuous learning of new technology and production methods, he maintains that students and himself can adapt and overcome these challenges. Smith is an exemplar of successful risk-taking and continues to innovate and inspire the next generation of designers.
"The days can be long, the hours can be unconventional, but the satisfaction of a successful production is an amazing and addictive feeling that continues to entice individuals onto other projects," Smith reflected.