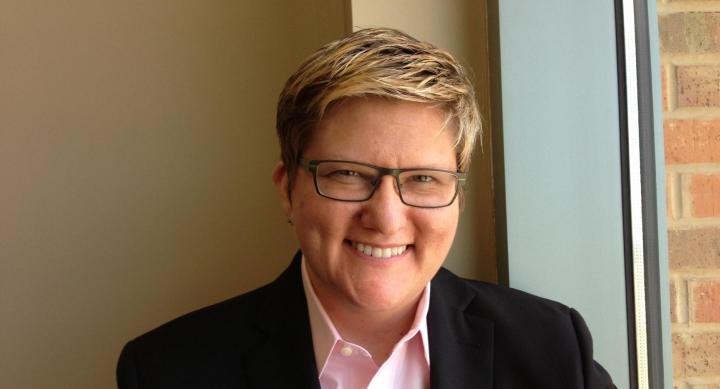 In May, Julie Schell joined the College of Fine Arts as the new Executive Director for Learning Design, Effectiveness and Innovation in the School of Design and Creative Technologies, where she has served as a Clinical Assistant Professor since 2017. In her new role, Schell will use her expertise with designing and scaling successful start-ups in universities to launch extended education programs minted at the College of Fine Arts and the School of Design and Creative Technologies. 
What are you most excited about working on as the Executive Director of Learning Design, Effectiveness and Innovation in the College of Fine Arts?
Learning. We spend the majority of our lives doing it, day in and day out. The nature of our learning experiences fundamentally shapes who we are, how we live and what we can do in the world. As students, we often are exposed to mundane learning experiences that fade away as quickly as they are introduced.
Why is that? Most of us can count only a handful of transformative learning moments from our pasts. They are few and far between. How can something so critical to our identities be so ineffective? How can we help human beings learn in ways that empower them to change the world? Design and creative technology offer largely untapped opportunities for radically shaping how, and what, people learn.
By trade and formal education, I am a higher education scholar and researcher with a speciality in learning experience design (LXD). LXD is the blending of instructional design and user experience design, with strong flavors of interaction and service design. It's about putting the human learner about the center of the experience. I'm most excited about standing up extended education programs that broaden access to and expand learning of "the first class"—to quote the Texas Legislature's constitutional charge to create "a University of the first class"—that originates from the College of Fine Arts to students, broadly defined.
You've had an impressive career of designing innovative approaches to teaching and learning. What drew you to this opportunity in the college and the School of Design and Creative Technologies?
I have devoted my career to studying and writing about the pace of change at American universities spanning a period of more than 400 years. Advocates for transformation in higher education often use the word "sclerotic" to describe our institutions. Oxford Dictionaries define sclerotic as, "becoming rigid; losing the ability to adapt." I believe that the higher education sector has an opportunity to become more flexible and responsive to change.
I was drawn to the School of Design and Creative Technologies (SDCT) because it represents one of the most promising ventures toward change in higher education that I have seen throughout my 20 years in the industry. SDCT is innovating the how—and what—students learn as well as reimagining the number of students the University can reach on and off the residential campus. I am thrilled by SDCT's efforts to strip the elitism from traditional design education, to broaden access to design practice and to empower students from all walks of life to use design to solve their most pressing problems.
One example that brings this work to life—a recent opportunity I had to see an Art and Entertainment Technologies student's thesis. Rather than be given a stack of papers to review, I was given a tour of a sound studio full of remarkable music and digital media. It was a beautiful moment highlighting the nexus of traditional academic work, design and technology.
What drives your passion for teaching and learning?
I have always wanted to be a teacher. I currently teach courses in higher education innovation, design and game-based learning, and I include this phrase in my syllabus: "I believe my job is to learn you. I see myself as a student learning alongside you and about you."
Every semester students are surprised by this statement. I was trained in a tradition of education that places inherent value on the experience of the student. My dissertation advisor at Teachers College, Columbia University, instilled in me the view that every student's life experiences offer a living text packed with important learnings that are as valuable to the field as the established canon.
My obsession with teaching and learning began when I was in college. I had a physics teacher who changed my life. I happened to be going through a very difficult coming out experience and was lost and confused. My teacher's office hours offered a safe space to sit twice a week, where he taught me physics despite my lack of promise in the discipline. The result: I ended up completing a 4-year Postdoctoral Fellowship in a physics lab at Harvard University. I experienced firsthand how a single, academic learning experience had the power to improve one's life.
I am compelled by the challenge to design learning experiences that spark such individual, structural and behavioral change and to disrupt the strong tendency for learning across academic and business contexts to be so ordinary.
You've shown a particular interest in design thinking pedagogy in your work and research. What do you think are the biggest opportunities that design thinking offers in the classroom and the business world? What are some of the pitfalls that you've seen as it's become so popular in the business world?
Wicked problems are wicked for a reason. To develop breakthrough solutions that address such problems is incredibly difficult. It is not something that can be learned in a quick-shot bootcamp or picked up in an article or book about design thinking.
Design thinking involves a highly complex and iterative learning process; it requires the designer to have design content knowledge, grit, strategy and persistence to push through the inherent ambiguity that comes with innovation. The biggest pitfalls of design thinking initiatives come from facilitators and educators who place too little attention on how people actually learn, especially given that today's new design thinking learners are not often classically trained designers.
In my experience, a student is more likely to successfully adopt, and apply, design thinking when the course of instruction is carefully designed around how people learn and apply their learning outside the classroom or workshop. Too often, I have found that this focus is missing in design thinking education ventures. I have observed that tremendous enthusiasm and excitement for design thinking are followed by rapid abandonment and small returns on investment. My role at SDCT will be to offer an alternative that is designed to meet the needs of new learners and to create change from the start.
What's the biggest shift you've seen in classrooms and teaching innovations during your time working in higher education?
Over the past two decades working at both public and private Universities, I have noticed a shift away from passive learning to more active learning and student-centered teaching. While the lecture is still the dominant model of pedagogy in higher education, it is starting to give way to more innovative, hands-on approaches such as experiential learning, project-based learning and inquiry-based learning.
I personally use project-based and game-based learning in my courses, because those approaches translate into highly engaged learning experiences for my students and me. I don't want my students' learning to be situated in, and limited to, the classroom, semester or workshop. I want students to be able to take what they have learned and apply it outside of the classroom, in their lives and jobs.
Both breakthrough and sustaining innovation requires a unique skillset that I define as innovation readiness. Project-based and game-based learning is more experiential and translates into marketable skills for the 21st century workplace—such as problem-solving, integrative collaboration, addressing ambiguity, teaching oneself and creativity. While a lecture may produce content knowledge, it will not often equip a student with these far-reaching assets necessary for innovation.
In your time at Texas OnRamps, you grew that program at a phenomenal rate. In six years, the program went from educating more than 160 students to more than 10,000. How were you able to scale this program so successfully?
At the core of Texas OnRamps success and scale was strategic, human-centered design and meticulous project management. Since its inception, Texas OnRamps has been working to address the wicked problem of the leaky high-school-to-college pipeline. We used a standpoint of empathy to help learn and discover the surface level and root causes of pipeline problems from the communities who live and work in the college transition context. And we cultivated a network of higher education and K-12 leaders, faculty, scholars, teachers, administrators and students who are together designing solutions to the root causes we identified through this integrated, human-centered approach.
The Texas OnRamps approach can be applied to many sectors. However, for many academic or business entities working to solve highly complex problems, empathic or human-centered design is not enough and may be too one-sided.
And that's where project management comes in. We found that existing project management tools such as Agile or Waterfall were not suited to the work we were doing, so we designed and executed our own mash-up, project management method to work within the context of a major research university. A rigorous, dogged approach to both empathy and project management and implementation built our reputation as an innovative, college-transition solution partner who meets stakeholders' needs.
Related content:
Check out Julie Schell's Design Thinking Pedagogy Reading List