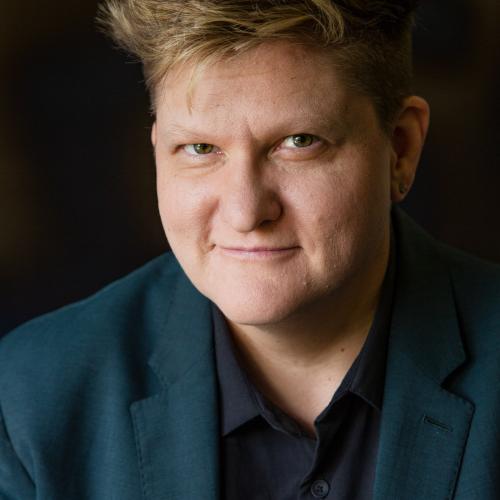 Assistant Vice Provost for Academic Technology

Executive Director for Instructional Continuity, Innovation, and Accreditation

Assistant Professor of Practice, Design

OnRamps Advisor
Dr. Julie Schell is the Assistant Dean for Instructional Continuity and Innovation in the College of Fine Arts (COFA). She led the transition to online learning for over 1600 students and 200 Fine Arts faculty and academic staff during the CoVID-19 pandemic. Dual appointed as an Assistant Professor of Practice in SDCT and the Program in Higher Education Leadership within the College of Education, Dr. Schell is an award-winning expert in teaching and learning with 21 years of experience in education. She teaches courses in design thinking, design pedagogy and supervised teaching in design for the Department of Design and problems of college teaching and learning and technology and innovation for the Program in Higher Education Leadership. In 2021, Dr. Schell was awarded a Provost Teaching Fellowship at UT Austin. 
Dr. Schell has delivered over 100 talks, workshops, and keynotes on teaching and learning. She is the creator of Think Before You Design Think­™️, a popular introductory human-centered design course she first launched at AT&T and has delivered at Fortune 500 companies and non-profit organizations throughout the United States. Dr. Schell's approach to design thinking pedagogy focuses on helping people develop the extensive cognitive abilities and activities required to learn complex material and methods. She has supported thousands of new learners in their journey to understand and apply human-centered design to improve lived experiences.
She has held positions at the nation's top research universities, including Yale, Stanford, Columbia, Harvard and most recently The University of Texas at Austin. In 2014, Teachers College at Columbia University identified Schell as an Early Riser in Higher Education for her original contributions to the field. Her scholarship focuses on incorporating the science of learning into the practice of learning experience design, and therefore teaching and pedagogy.
In May 2018, Schell joined the College of Fine Arts (COFA) as the new Executive Director for Learning Design, Effectiveness and Innovation in the School of Design and Creative Technologies (SDCT), where she has served as a Clinical Assistant Professor since 2017.  In her new role, Schell will work as the principal strategist for the start-up and scale of extended education initiatives minted at COFA and SDCT. Schell will help the COFA and SDCT partner with corporations, nonprofits, K-12, and colleges and universities to expand the reach of the college.  
Schell is well-regarded for her ability to design and scale thriving start-up organizations in higher education. From 2013-2018, she was the Director of TEXAS OnRamps and Strategic Initiatives at UT Austin. Her creative vision led OnRamps from an organization with one course, three staff, and 150 student enrollments in 2013 to a prominent, statewide initiative with 13 staff, 15,000 student enrollments and 30 staff members in 2018. Schell began her journey at UT Austin as the lead instructional designer for the Texas OnRamps. While at UT Austin, Schell also won a grant from the Longhorn Innovation Fund for Technology (2013), where she co-designed a collaborative, web-based learning game called ConceptQuest.
Since 2013, Schell has also served as a clinical assistant professor and assistant professor of practice in the Program in Higher Education Leadership at UT Austin where she teaches design thinking in two graduate courses: Technology and Innovation in Higher Education and Problems of College Teaching and Learning.  She has taught on the faculty or as a preceptor at Teachers College, Columbia University, Harvard University and The University of Nevada, Reno.
An internationally sought-after speaker and consultant, Schell has worked on educational design initiatives with thousands of national and international faculty. She has led pedagogy and student learning projects on site in the Netherlands, Aruba, Brazil, Canada, Chile, Colombia, Denmark, the Dominican Republic, Germany and throughout the United States. She has also designed and implemented pedagogical innovation projects online for universities in Hong Kong, Malaysia, Saudi Arabia, Singapore and South Africa.
Before joining UT Austin, Schell served as a postdoctoral fellow (2009–2014) under leading physicist and educational innovator, Professor Eric Mazur at Harvard University. She received her doctorate in Higher and Postsecondary Education from Teachers College, Columbia University. The American Educational Research Association's Higher and Postsecondary Division awarded Schell the Dissertation of the Year Award for work, "Venturing Toward Better Teaching: STEM Professors' Efforts to Improve their Introductory Undergraduate Pedagogy at Major Research Universities." Schell has an M.S. in Counseling and Educational Psychology with an emphasis in Information Technology and a B.S. with Distinction from the University of Nevada, Reno.