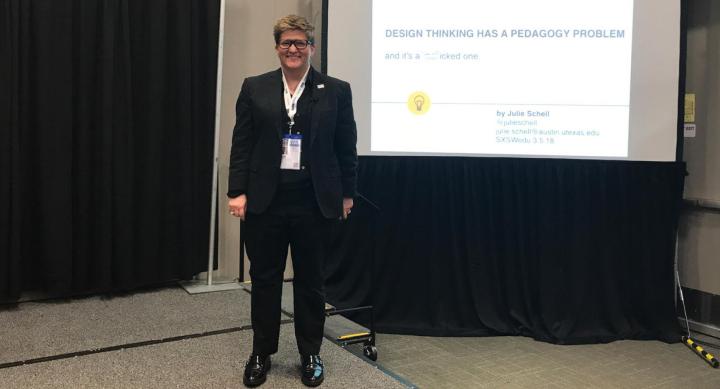 Why People Need to Learn Design Thinking
Wicked problems are everywhere. The number of prepared and available solvers to work on these kinds of problems, however, is sparse. Scaling design thinking outside of the design studio offers a way to relieve this tension. That is because a human or team of humans using design thinking represents a formidable match for a wicked problem. Features of wicked problems include indeterminacy, meaning no known solutions or root causes. They are also extraordinarily complex and do not yield to traditional approaches. Examples include poverty, racism, violence, cancer, climate change and many more. Humans can use design thinking to change the world, but only if the current "rapid teach" models of design thinking pedagogy are reimagined.
Defining Design Thinking Pedagogy for the 21st Century
At the School of Design and Creative Technologies at The University of Texas at Austin, we are embracing the responsibility to define design thinking pedagogy for the 21st century. A key strand in our work involves integrating the science of teaching, learning and human behavior with established design thinking curricula and practices.
The Approachable Design Thinking Pedagogy Reading List
At a recent SXSW talk by our Assistant Dean and former CEO of frog design Doreen Lorenzo, we shared our vision for design thinking pedagogy. The conversation led to several requests for resources that were informing our work in education.
Below you will find our emerging "Approachable Design Thinking Pedagogy Reading List." This list does not include highly technical readings on design, design thinking, human behavior, pedagogy or learning science. Instead, we curated a list of readings written for the broad diversity of humans we hope will first learn, adopt and practice design thinking to solve our most wicked problems and then teach many others to do the same.
We will continue to add to this list over time. If you have reading recommendations that have impacted you personally, please tweet me @julieschell. 
Design, Design Thinking, Empathic Design
Change by Design by Tim Brown
Hidden in Plain Sight by Jan Chipchase
Wired To Care by Dev Patnaik
Design of Everyday Things by Don Norman
Well Designed by Jon Kolko
Science of Teaching, Learning, and Human Behavior
How Learning Works by Susan Ambrose
Thinking Fast and Slow by Daniel Kahneman
Nudge by Richard Thaler and Cass Sunstein
Why Students Don't Like School by Daniel Willingham
Make it Stick by Peter Brown and Roddy Roediger
100 Things Every Designer Needs to Know about People by Susan Weinschenk