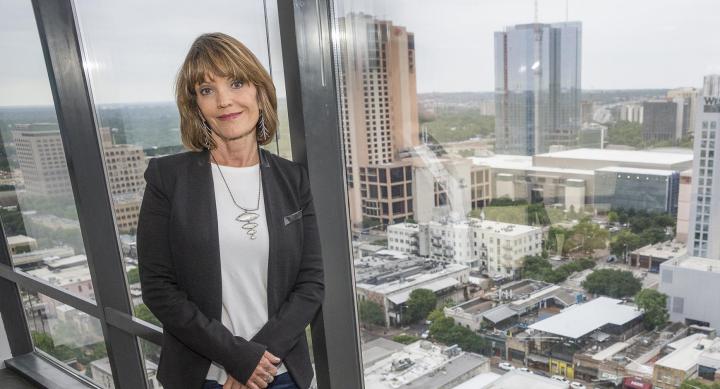 Jan Ryan recently joined the College of Fine Arts in the newly created role of Director of Creative Entrepreneurship and Innovation. As an entrepreneur, software tech executive and investor, Ryan has been focused on building expansion stage companies for 28 years, resulting in four successful acquisitions and one IPO. Ryan is currently a strategic advisor and angel investor in some of Austin's most innovative young companies. She serves as partner at Capital Factory, an Austin-based accelerator and mentoring program for startups, as well as TechStars, an international accelerator where she frequently shares her founders story and funding advice. We caught up with her recently to learn more about her new role in the college.
Can you talk about the scope of what you'll be addressing in your new role as Director of Creative Entrepreneurship and Innovation?
I've come to UT to create an entrepreneurial program for the creative students. I call it "Pathways to Entrepreneurship." I'm convinced the College of Fine Arts can become the greatest college for creative entrepreneurs in the country. Our newly formed School of Design and Creative Technologies is essential to that, and that's why I'm so excited about the launch this fall. Our vision is clear: college to career. Students being equipped to shape their own careers in this fast-moving creative economy.
This will involve some re-thinking and re-imagining of curriculum and how we teach today, expanding the ideas of students for what they think is possible. But I believe the students are ready for this. They want to know how to connect the dots between their passion and their craft and the real world. For me, it will be fun to draw from what I've learned from many years as an entrepreneur and from mentoring hundreds of founders in our Austin ecosystem.  
You've had a prolific career as an entrepreneur and businesswoman. Can you tell us why this new role was so appealing to you?
Arts + Design Thinking + Entrepreneurship is a killer combination—how could I not be excited about that? The opportunity to launch a design school at UT built on the core fundamentals of entrepreneurship is a dream job for me. Frankly it taps all my areas of passion and experience—I'm here to give back to the next generation of entrepreneurs, to help build something meaningful and big, something that will last. And I'm blessed to be working alongside a brilliant cast of colleagues who also think big.
What will be your biggest priorities in your first year on the job?
In our new school we will be infusing entrepreneurship into everything we do. So I want to begin by introducing a core set of fundamentals across the college—as well as a new mindset, one that dispels any mystery around the word "entrepreneurship" (for both students and faculty.) The word can sometimes be intimidating, conjuring up images of tech guys in hoodies. But thinking like an entrepreneur is a mindset that students can take throughout their lives to help them be more successful. Even if a student is not ready to declare themselves an entrepreneur and to launch a company right now, the skills they learn around problem solving, understanding the needs of their audience, promoting their brand, working collaboratively with other disciplines—these will help them be more marketable and effective in any industry. Ten years from now, if they have an idea they believe can change the world, they'll know how to recognize it and act on it.
Second, I want to make sure our creative students are aware of and connected to the many amazing resources UT already has on campus. Maybe we'll form a creative cohort that attends Longhorn Startup together, for example, or form discussion groups curated specifically around issues that creatives face. We'll be bringing in role models and entrepreneurs to speak on a regular basis.
Third, I want to help bring the outside in—mentors, commercial partners, role models, experienced entrepreneurs and potential investors. I'm a big believer in the power of broader ecosystems for entrepreneurs and students, especially in the important cross-pollination that must happen for the nurturing of new ideas to launch and grow successful businesses. This will include connections for partnerships to further commercialize what we're doing in the School of Design and Creative Technologies and the many opportunities for meaningful philanthropy for those who are drawn to help us scale this vision.
What do you think are the biggest strengths that students with an arts education bring to the table in the business world?
Artistic students are naturally curious and creative, and they don't have any hang-ups about re-thinking the status quo. Their persistence, passion and, frankly, raw tenacity for getting past obstacles is beyond inspiring! These are huge benefits in our new economy—companies crave creativity and innovation and will pay dearly for these skills. But the practical linkages are not there yet—a level of fundamental business skills needs to be infused into arts higher education to capitalize on these innate strengths of our students in the real world. I believe entrepreneurship is a perfect way to harness all of that creative energy, sensitivity and passion and to use it in a way that feels authentic to an artist's basic nature.
You've been a passionate advocate for and mentor to women in the startup community here in Austin. Can you talk about why this is such an important issue for you?
When you've been an entrepreneur more than once from idea to exit, you just know where the gaps are for women. I'm passionate about this next generation of entrepreneurs because I believe we're finally at a point where we can begin to change the ratios. We can empower women founders as a powerful new economic force, especially if we catch them early and equip them and surround them with connections, confidence and the right skillset for running a successful business.