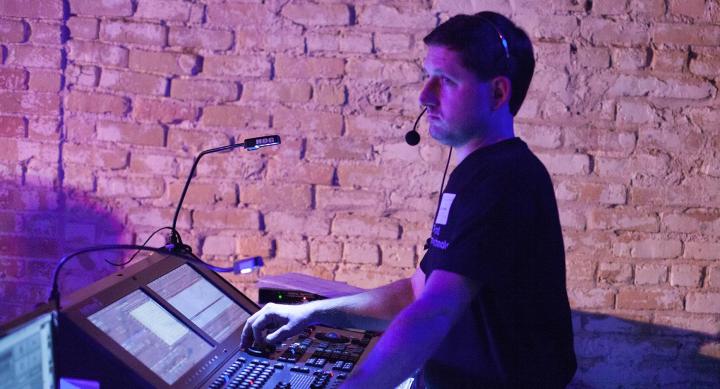 Matt Smith is a projection and lighting designer and a lecturer in the AET's New Performance Technologies emphasis area. Smith received undergraduate degrees in drama and communication and a master's degree in communication from Angelo State University, and he received his M.F.A. in Design and Technology with an emphasis in integrated media at The University of Texas at Austin. He's worked on numerous productions around Texas as a designer, as a content artist and programmer, and he will serve as vice chair of design, technology and management for the Kennedy Center American College Theatre Festival (KCACTF).
How did you end up here in the AET program?
I received my M.F.A. at UT Austin, and my time here happened to coincide with the new Arts and Entertainment Technologies (AET) program coming up on its feet, and I decided to stick around to teach.
I've been designing around the state of Texas for over 15 years with small, regional and community theaters as guest lighting, scenic or projection designer. Here in Austin, there are some schools who hire me to do that job, and in more recent years, I'm being hired on bigger shows as a designer, content artist or as a programmer.
What can you tell us about the courses you're teaching?
This semester, we have the Foundations of New Performance Technologies course, which is meant to whet the appetite of these new AET students. A lot of the early year students don't yet understand what new performance technologies encompasses, and so it's my job to show them the three main areas that we concentrate on: projection, lighting and interactivity. So, really the class is three projects, with one concentrated in each of those disciplines, to show them what's available and what could be possible and that hopefully sparks an interest in them.
I'm also teaching the NPT production lab, which is a topics course, and this semester is centered around a piece of hardware called the Disguise Media Server, which can accurately map content onto 3-D objects. This semester, we're working with the City of Austin to build a scale model of a portion of Austin that's been proposed to be rezoned and revitalized. So, we're going through the workflow that an engineer or a content artist would have to go through to make such content happen. We're drafting 2-D and 3-D models in computer-aided drafting software and then applying UVW maps to those. We're then designing our own content and applying it to those maps to create a large model that participants can walk up to and then view a short presentation projected on that model.
I co-teach with Sven Ortel the "Media Creation for Live Performance" class, which is strictly focused on content creation. So, if you're a projection designer and you have a vision inside your head for what you want the audience to see, what are the tools to make that vision happen? We spend a lot of time in Adobe Creative Cloud to create content through a variety of ways, whether it's all generated in a computer or whether it's through a camera and processed in a variety of ways through the computer. The big capstone project of that class this semester is something we call "Ears, Eyes + Feet," and it's a collaboration between, composers, choreographers and these content artists, and they put on a dance concert at the end of the semester.
And lastly, I'm teaching "Concert and Event Lighting." This course is unique because we have two guest lecturers from High End Systems who are joining me throughout the semester, and it's really designed to give students bigger and greater challenges when it comes to being a lighting  programmer. We fully utilize the programming tools that are inherent in the console itself. The previous classes don't allow the time to dive into those topics, and this class allows the time to explore those.
What advice do you have for students who are interested in following a career path in this area?
Imagine the perfect individual who you want to work with or collaborate with, and strive to be that person. Because we do collaborate on almost every project that we work on, and that interpersonal communication is key, so just in broad terms, be a pleasant individual to work with. So, if I had one piece of advice, that's it. I always say be pleasant, be early and always maintain professional composure. Because things happen, and you want to maintain a constant persona and be the individual who they need you to be at that time.
My next piece of advice is to keep at it. Building a network of collaborators takes time. Finding these projects to work on, whether they're big or small, and you never know what one project may lead to.  As a young designer, programmer or technologist, there are times when you will be frustrated, like, "Man, I just did a job, and no one's calling me. I don't know what the next job is or what the next project will be. Why isn't anyone reaching out?" You don't know the answer to that, but just keep at it. And it just happens.
Enjoy learning. Our field is constantly evolving, and you will be required to learn new skills as you progress through your career. What was great two years ago isn't so great now, and there's a new kid on the block. You have to maintain relevancy, or the phone will stop ringing because they've moved onto someone else.
Continue to challenge yourself. Surround yourself with individuals who you respect and look up to. If you're the smartest person in the room, who are you going to learn from? Find great collaborators and learn from them.