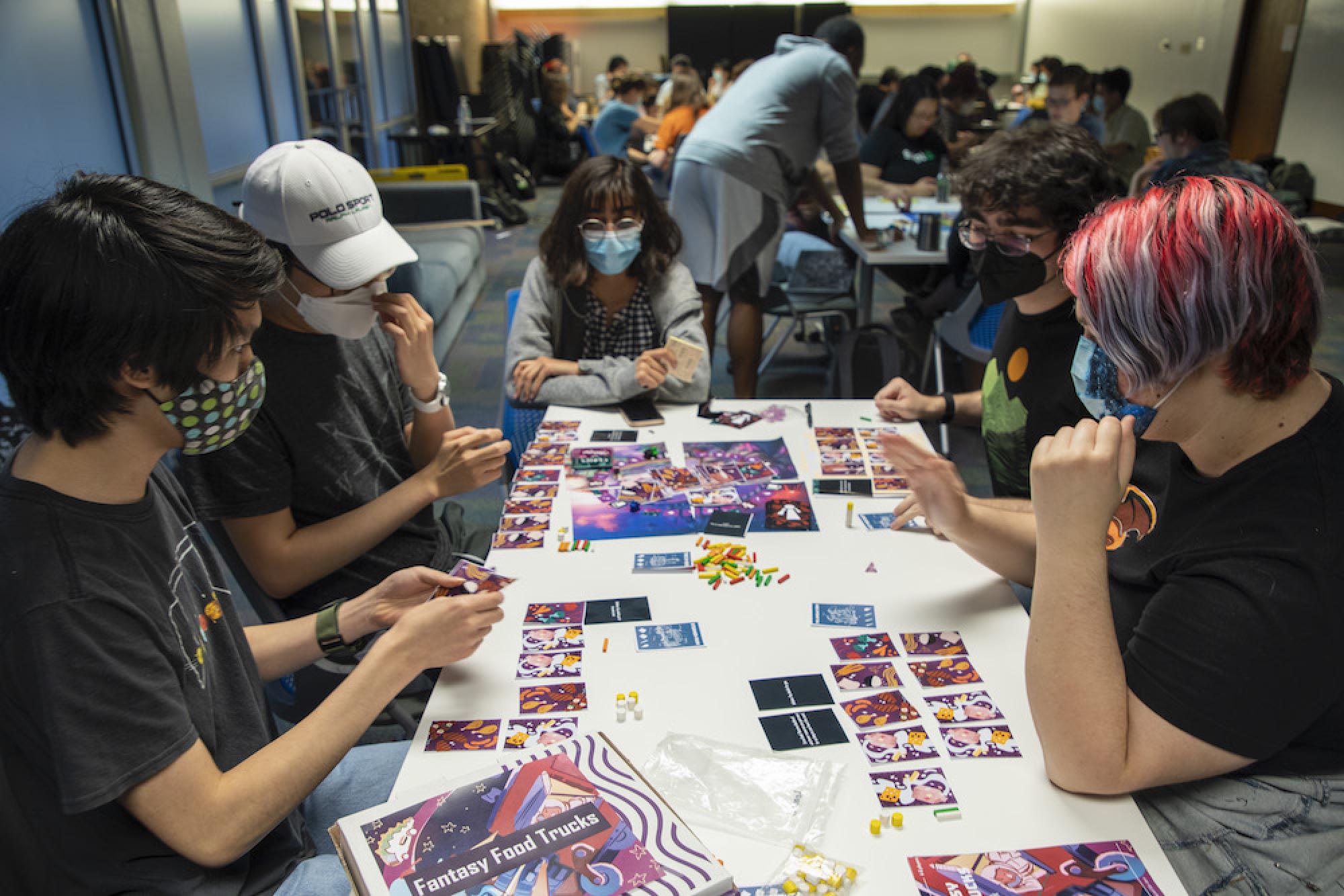 In Tyler Coleman's Physical Games course, a new AET offering for Spring 2022, students receive grades for creating, playing, and testing their own games. And like any board game worth the effort of learning the rules, the goal of the class is to stimulate thinking and inspire social interaction while exposing students to the intricacies of game design.
The first six weeks of class are spent playing and prototyping smaller card games, dexterity games, schoolyard, and even pub games. Through this exploration, students learn all facets of game design including brainstorming, research, creating concepts, prototyping, playtesting, iterating, and implementing changes. There is also a heavy element of 2D design involved as the graphics and game art are a critical part to attracting player interest. The intention is to build foundational skills in both game design logic and graphic design without the technological programming aspect you get in other AET courses.
You don't just go straight into making games right away — you learn how they're made and where they come from. This helps in the later stages where ideation comes in to make your own games. It helps to get an understanding of how they function to make a good game, said Jaclyn Ngo, Arts and Entertainment Technologies Senior.
As the semester end nears, the class hosted a playtest in the AETx Lab of 7 tabletop games, all created by students. Members of the class formed groups before spring break and had 2.5 weeks to prepare their games for testing. Requirements for the games included having a printed rule sheet, game pieces, and a designed "box"— the rest was left to the imaginations of the students.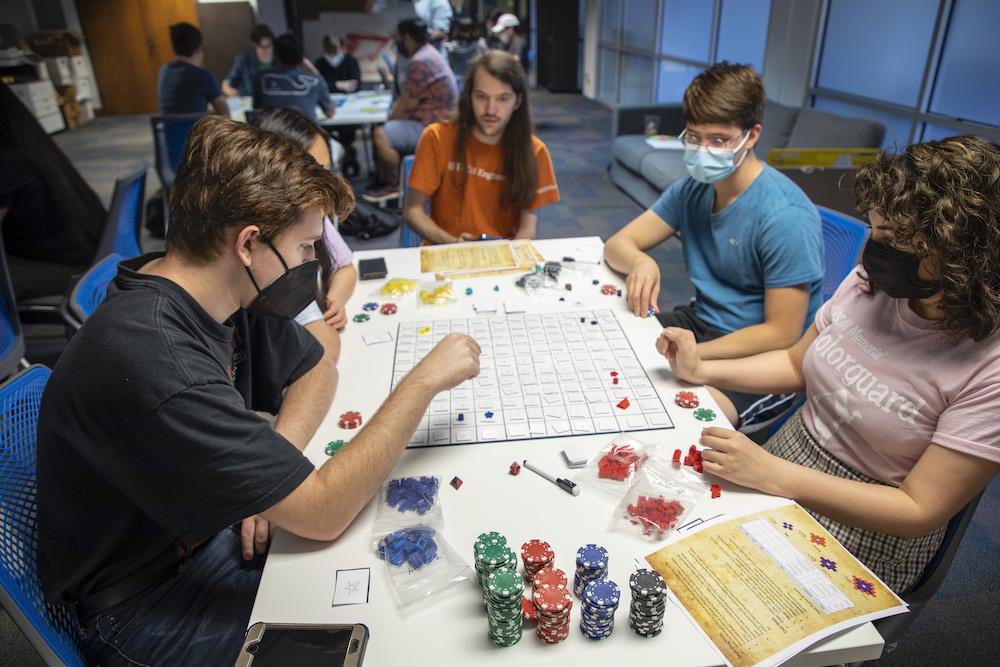 While it appears to be all fun and games for the players at each table, this human-centered testing is a critical step to ensuring a fully functioning game for the creators. A designated member from each project group was actively taking notes, asking questions, and engaging with live feedback from players. Students will have one week to incorporate feedback before submitting their final physical tabletop game for grading.
UT student-created games for this semester's class include Fantasy Food Trucks, Merchants of Hexaria, Chef's Kiss, Burrowers, Bomb Voyage, Tres Leches, and Tetracolor Conquest. Once games are submitted and graded, students will be given the option to donate the final project to the UT Library, making them accessible at any time to students interested in trying out a new game.
"The large number of physical game prototypes that we have made for the class have made for a great delve into developing interesting mechanics! Iterating and building out a full board game during the process of the group project was also great practice for delegating work. The physical side of board game making and designing around the limitations it entails is something that you can only truly understand through firsthand experience," said Arthur Dale, Arts and Entertainment Technologies Junior.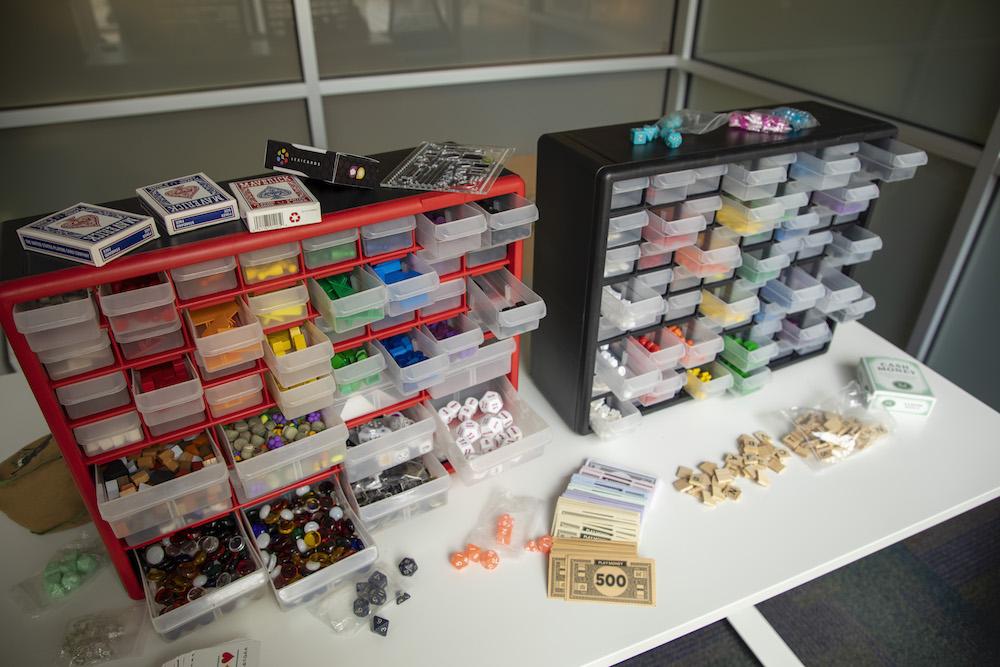 A big part of game development is the physical design of the pieces. In 2021, the Department of Arts and Entertainment Technologies received a grant in honor of Jim Gould, a long-time board game and tabletop player in Austin with many ties to game industry veterans in the area. The grant enabled Coleman to purchase an extensive prototyping kit for students in the class to use, which includes over 2,000 individual board game pieces, construction materials for building, and a host of full games to play and learn from including Jenga, Dominoes, Chess, and Poker.
Stay tuned to @utsdct on Instagram for a chance to play the final versions of these UT student-created games in a celebration later this month, and check out the UT Texas TableTop Club for upcoming game nights to meet other gaming Longhorns.