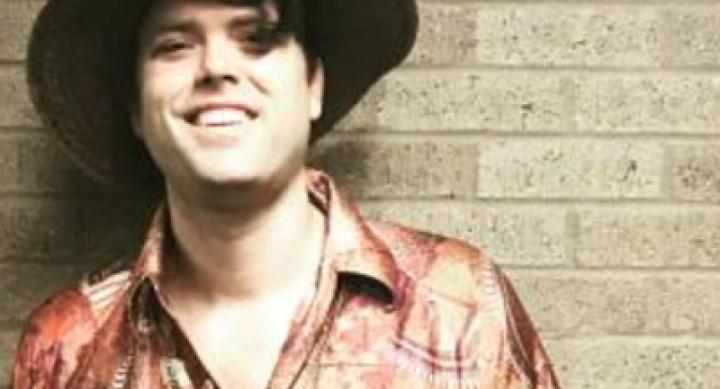 Dax Norman is an artist and animator who is currently teaching 3-D animation in AET. He teaches production courses where students work with 3-D animation, practice using software like Photoshop and create a video game. As an artist, his work includes numerous paintings, animated projects and GIFS. Norman's work has been shown in exhibitions and festivals both nationally and internationally, such as Spike & Mike's Sick and Twisted Animation Festival and Gallery 444 in San Francisco. He's also created animation for Adult Swim and MTV.
Could you tell us a little about yourself? What is your background?
I have three degrees. My first degree is in advertising from UT Austin, and then I went to art school at Ringling College of Art and Design, studied computer animation (B.F.A.). Then I got an M.F.A. at UT Dallas in Art and Technology.
At Ringling, I worked for Apple as a 3-D artist and created iPod games. There were two games in the iPod that I did most of the art for, and they came on every single iPod. Since then I've made many music videos and different kinds of animations that have played in festivals. My art school thesis, a 3-D animated short, played in Spike & Mike's Sick and Twisted Festival of Animation and a lot of other festivals. Since then I've made a 3-D animated feature by myself called Leptune. It had a lot of motion capture (I was the person moving around), which I then put on my characters. I also do a lot of abstract stuff, and over the years I've made more than 5,000 animated GIFs. Tumblr is a place on the Internet where I really blew up, and I appreciate that, especially with the format I work in. Currently, I'm working with a friend in New York City to do projections of my GIFs for live concerts. I've done commissions for Skrillex and a number of things for Adult Swim. I've done four episodes for Off The Air, and I've done stuff for MTV as well.
What are some projects you've done or experiences you've had that you are most proud of? Why?
I'm always most excited about what I'm working on currently. The things you've done in the past are always fun to watch again, so I like to put them on the Internet since I see that as a way you can connect with people. I've collaborated with so many people in the last 10 years whom I still try to keep in contact with and keep collaborating with. That's really fun—to make relationships. I love working with people over the Internet and then meeting them in person. That's really thrilling for me.
What do you cover over the course of the semester in your classes?
I teach full time now so I teach a number of courses. AET 326 is a 3-D production pipeline, so I have the students do a little of everything. In the end they come out with a video game that basically they designed from scratch. They made the animations, models, virtual worlds, textures, lighting, everything. We break it up incrementally so basically each project is like a building to the final. We talk a lot in there about new media and everything that they could do with their skills in the future.
We do 3-D modeling and digital sculpting. They can focus in there on building their modeling portfolio big time. In Spring 2017, I'm teaching one called Animation and Rigging, which is the first time I've taught it. The class is making a collaborative animated short. I built an entire set in characters and gave it to the class for them to work with. They're free to write a story. The other class I'm teaching this semester is Concepts of Visual Style. We use Photoshop in there. All of these are production classes, but we talk about culture, the Internet, digital art and how to have a voice in that conversation as an individual.
What do you hope students take away from this course?
I teach my students how to make video games from scratch. I've been drawing since I was a baby, so I want to show my students from the ground up how to make stuff. As a teacher, I want to show students that there are so many branches you can do in art. I hope that they feel encouraged. My goal is that I hope they keep doing whatever that class is, or they take the work forward and keep working. There's so much out there to do, and we have access to it.
It's very fulfilling when you see work that the students do that you think is so good. Sometimes they don't see it themselves. Students are so quick to look at their work and bash it. I don't try to enforce those overly critical ways of thinking, I want to be about creativity and expanding what you can do, skills wise and conceptually. There have definitely been specific projects that have just been amazing. The technical barriers that used to be there are lessened. My goal is to make those barriers nonexistent.
What kinds of projects are you working on outside of the classroom?
I work on so much stuff every day. I produce and put stuff on the Internet every day. My big goal is, in the near future, I want to be able to make a video game entirely by myself. Not in a selfish way, but mostly because I just want to make things. I want to have an essence of fun and pass along what I created.
What advice do you have for students who are interested in following a career path in digital arts or animation?
I would say that, to be empowered, to just create and be open for new avenues of possibility. When I was a student here, I never would have guessed where I would be now. Everyone says that and knows that, but things happen with technology and if you're just open for opportunities, for creativity, they're going to be there. You have to keep your eyes open and keep working. Always keep working. Some people depend on validation from others, but you have to have validation from yourself. You just keep working, and you figure out who you are as an artist. There's plenty of stuff to do. You figure it out and just have fun with it.