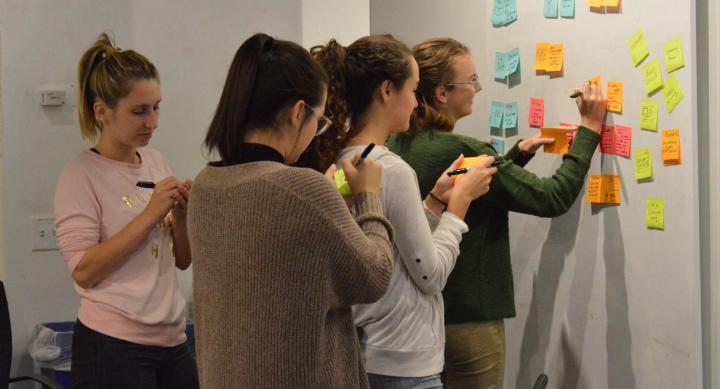 IBM and UT announced this week that they have formed a classroom collaboration to teach design thinking to University of Texas undergraduates. The partnership is part of a broader mandate at the UT School of Design and Creative Technologies at the College of Fine Arts to transform creative education for 21st-century careers. IBM and UT's first project is a course called "Radical Collaboration," hosted by IBM and offered by the UT Center for Integrated Design within the newly launched School of Design and Creative Technologies. "Radical Collaboration" is a three-hour course offered to 24 University of Texas undergraduates from colleges across campus. Students are led through a rigorous semester-long design thinking training program taught by IBM designers at the IBM Design Studios in North Austin.
"IBM is committed to preparing students for the careers of the future, including the jobs that will be critical to our future success as a company," said Doug Powell, Distinguished Designer at IBM. "We want to help students think critically about problems that matter today, gain experience that will form the foundation of future knowledge, and most importantly, learn how to work collaboratively with people who are different than they are."
Each week students are shuttled from UT to IBM's Austin campus, where they are given actual IBM problems to solve as they partner with IBM project sponsors, in a similar manner that new employees are introduced to the company. Students engage in projects that have unique constraints, far-reaching applications and require intense collaboration to solve. IBM employee mentors and guest speakers are on-hand to facilitate research and help students wrangle with challenges. At the end of the semester, students will give final group presentations on their project findings a unique experience to add to their professional portfolios.
"The format of the Radical Collaboration class was particularly exciting. Working with students from different disciplines is something we don't get a lot of exposure to in a typical major-specific course," said Rachel Downs, a senior Management Information Systems major and Marketing minor at UT who is currently enrolled in the course. "Pairing that with a long admiration of IBM, their innovative design studios and the chance to learn their best practices of which I had been exposed to through my student organization, I was sold."
"We are thrilled for our students to work directly with IBM designers and learn first-hand about design thinking in a way that is practical and relevant," said Doreen Lorenzo, Assistant Dean of School of Design and Creative Technologies. "Teaching design thinking to undergrads helps better prepare them for the professional world, regardless of major. The IBM course reveals the current shifting academic models and the value of challenging educational conventions. This is precisely why the new School of Design and Creative Technologies was founded."
The School of Design and Creative Technologies (SDCT) plans to host similar collaborations with other organizations and companies as it prepares undergraduate students to learn and execute design thinking, embody entrepreneurship and collaborate both inside and outside the classroom. 
Related content: Q&A: Business student Rachel Downs shares lessons learned in "Radical Collaboration @ IBM Design" class