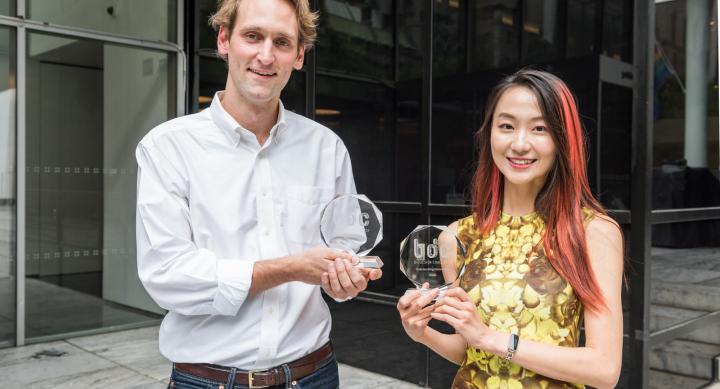 By Neerul Gupta
This summer, SDCT tackled record-breaking temperatures and swept industry-leading awards. Jiabao Li (Assistant Professor of Design) won Outstanding Instructor at the Biodesign Challenge Summit (BDC) 2023. Her student Brad Hakes (M.F.A. in Design) secured Runner-Up for the competition with his project "Orbweaver."
Since its founding in 2015, the two-day summit has offered university students the chance to showcase their biodesign projects to global leaders in academia, industry, art, and design, as well as 400+ audience members. BDC instructors from 45 participating universities selected student finalists to compete in the challenge, which was held at the Museum of Modern Art and Parsons School of Design in New York City. In addition to U.S. attendees, professors and students traveled from all over the world to compete, including the Netherlands, South Korea, Turkey, and Colombia. UT was the only school to be honored with multiple top awards.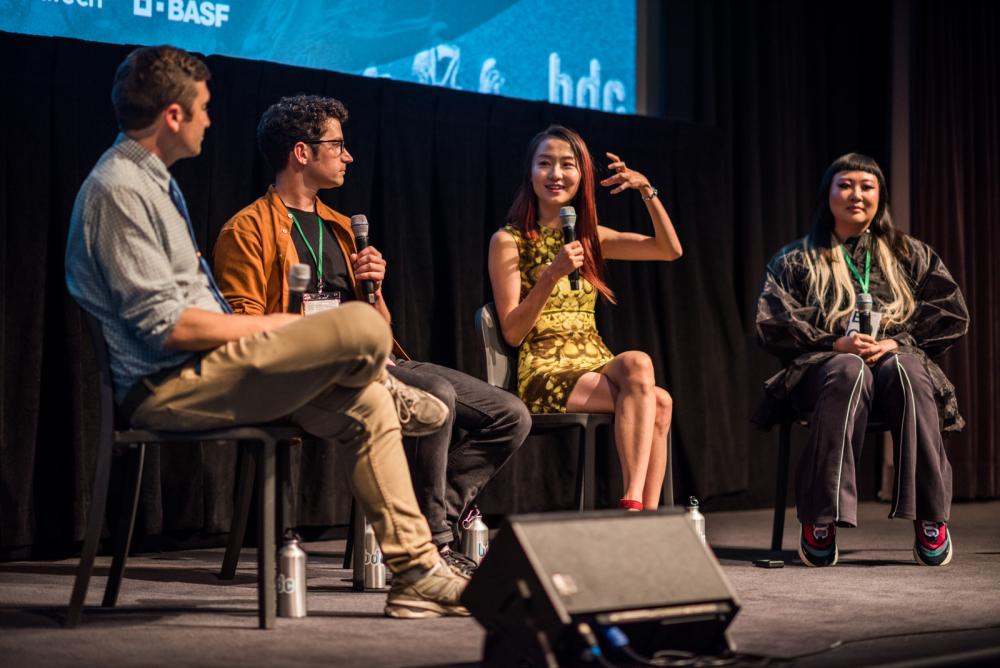 "Biodesign remains relatively unexplored as a common profession," shared Jiabao. "Competition like the Biodesign Challenge fills a crucial role by offering a safe space free from commercial constraints where students can experiment, take risks, and push the boundaries of creativity and science without the pressures often associated with market-driven pursuits."
This past fall, Jiabao served as a BDC instructor for Ecocentric Design: Interspecies Co-Creation, followed by Biodesign: Speculative Futures in the spring. With a curiosity-driven teaching paradigm, she believes nurturing curiosity, joy in self-discovery, and celebration of innovation are the critical ingredients to student motivation. Her students study everything under the sun — design, art, engineering, biology, cognitive science — while engaging in creative inquiry and collaboration.
"Everything that exists can be questioned, refined, and reimagined," Jiabao noted. "This spirit of speculation allows students' imaginations to flourish, opening up new vistas and stimulating debates about alternative paths. Embracing the unknown, I also acknowledge and celebrate when students surprise me with fresh insights. This mutual exchange of knowledge cultivates a thriving learning community." Conventionally, professors view themselves as the sole teacher in the classroom. However, Jiabao honors her students as capable innovators who she, too, can learn from.
Design research and artistic practices are in constant metamorphosis, so Jiabao refines her class syllabi to keep pace. In addition to adapting her methods to new discoveries, she reflects on student feedback. "I recognize teaching as an ever-evolving journey of reformulation and relearning, a dynamic process that enriches both me and my students," Jiabao said. A paragon for exceptional teaching and leadership in the biodesign landscape, Jiabao was awarded out of over 80 BDC instructors across the globe.
Jiabao works closely with scientists and has created a stand-out philosophy for generative science-art partnerships: Openness, Process-driven methodologies, Time investment, Curiosity, and shared Credit, or OPTCC. Using OPTCC, she spearheaded projects studying how technology mediates perceptions of reality, discussing them in the BDC 2023 professional panel "Art & Design as Critique." Highlights include mobilizing a Hawaiian bobtail squid to redraw U.S.-China borders (without a passport!), building a fitness program with a mouse running coach, and discovering the biopolitical and artistic power of menstrual blood.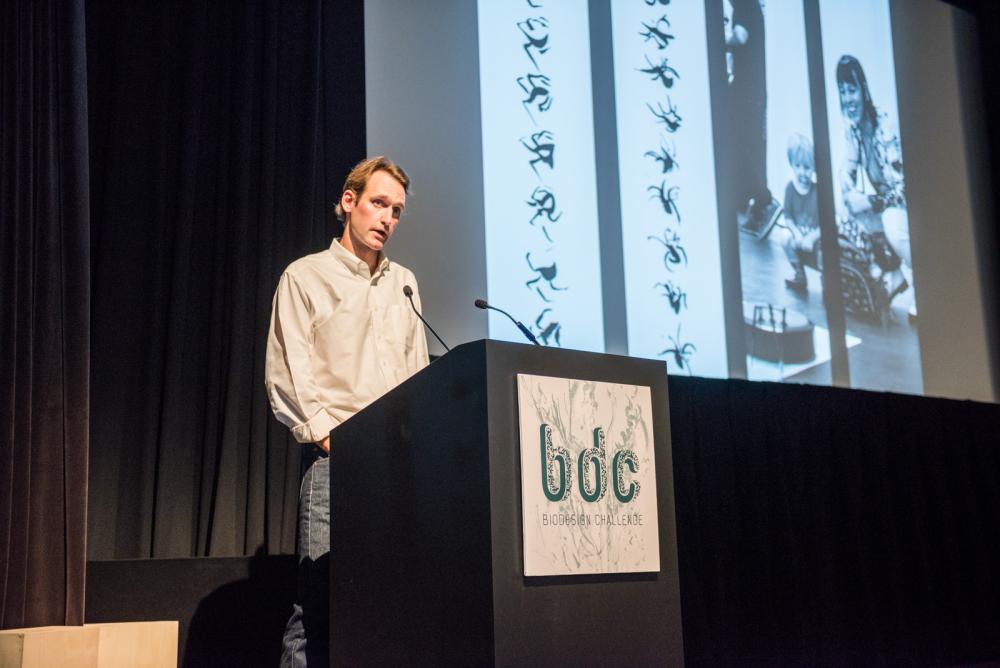 As a BDC course instructor, Jiabao was tasked with electing one student to represent UT at the competition, and she elected Hakes. "Orbweaver" was originally conceptualized in Jiabao's Ecocentric Design course and later developed in her lab. Interestingly, Hakes' project emerged from the desire to ameliorate his fear of spiders. He captured a series of interventions via photographs and videos and included artwork created by a hijacked robot vacuum cleaner. "His unprecedented approach to co-creating with spiders and the profound, yet whimsically executed insights, set his project apart," praised Jiabao. Competing against over 60 finalist projects, Hakes' was honored with the Runner-Up award.
"This success is a testament not only to Brad's extraordinary talent but also to the entire class's innovative spirit, determination, and cohesive collaboration," reflected Jiabao. "It's a synergy of creative minds committed to pushing boundaries and redefining the future of biodesign."