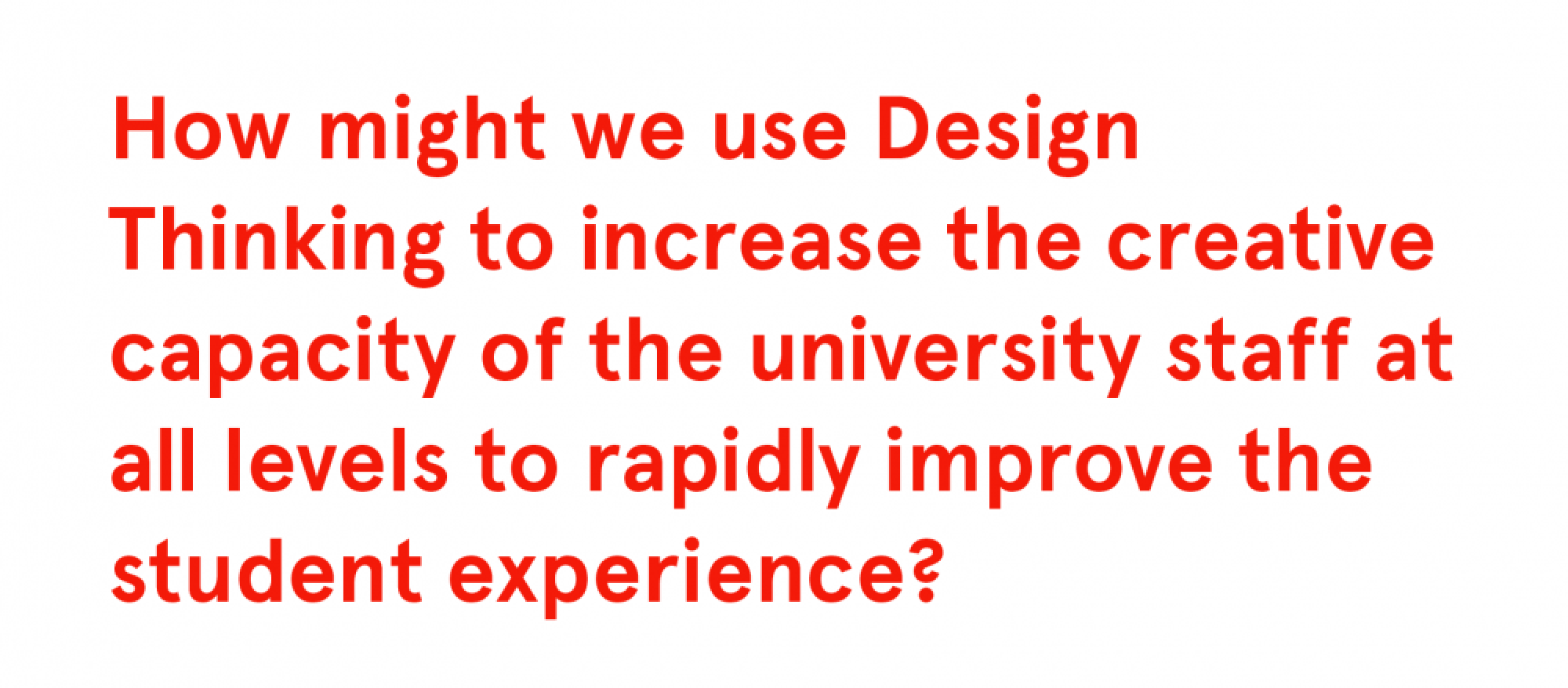 By Dr. Luke Jones, Faculty, College of Innovation and Design, and Director, Campus Recreation, Boise State University
Institutions of higher education are looking for new approaches to retain students, ensure timely progression and graduation, and maximize learning. University culture, structure, and incentives can often paralyze institutions, making it challenging to focus the work of faculty and administrators in a meaningful and timely way. Research conducted at Boise State University shows that design thinking has the potential to increase the creative capacity of university staff at all levels to rapidly improve the student experience.
Universities and colleges face a variety of economic, academic, and social pressures. Parents and students question the value of a college degree just as the nation is looking to colleges and universities to prepare students for the 21st century global workplace. Higher education is called to expand access and graduate more students with an increased focus on job readiness; yet many state governments have divested from higher education as a total percentage of their budget.
Boise State University faces many of these disruptive pressures. Close to half of our students are first-generation students. Many are under-resourced, work two or more jobs, enroll part-time and are living off-campus, away from supportive networks and resources. As a result, the retention and graduation rates of our students suffer, and we need to improve them.
I work in the division of Student Affairs and Enrollment Management. This division creates co-curricular learning communities and experiences that shape campus culture. Our division focuses on three strategic areas: recruitment, employability of students and increasing retention.
Resources are lean in this environment. Staff are often stretched thin and focused on the daily work at hand. Investing in the staff skillset development needed to engage in creative problem-solving is a tough sell in this environment, but, it is required if we are to make progress on our strategic challenges. The challenge is compounded by the traditional approach to problem-solving in student affairs, which tends to be overly academic. The process of planning an assessment, implementing the assessment, communicating findings and incorporating them often takes 3-4 years, which is too slow to keep up with a constantly changing student body.
The question I have been asking is, "How might we use design thinking to increase the creative capacity of the university staff at all levels to rapidly improve the student experience?"
To begin, I invited six staff members from different Student Affairs departments to join undergraduates in our "Design Thinking with IDEO" course I teach in the College of Innovation and Design. The three-credit, semester-long class wraps an in-person, project-based experience around online courses offered through IDEO-U. The staff team focused their work on improving the experience of part-time students at Boise State University.
After spending a semester gaining trust and testing ideas, they presented their insights to division leadership. Division leadership recommended they share findings and recommendations with the university's executive enrollment committee, a group of deans, Institutional Research staff and the provost. I learned that a few weeks before the presentation, one of the deans, frustrated by trying to make sense of retention data, remarked, "I just want to get out and talk to the students!"
I can identify with both the frustration and sentiment. My experience tells me what he really needs is his team constantly gathering insights from students so they can be learning together. The staff team from the design thinking class helped this group make sense of what was happening beyond their statistics. Their profiles and stories gave them actionable insights that led to a lengthy and lively conversation.
The staff involved in that class reported learning how to take risks and contribute as a creative team member. They stretched their thinking, embraced curiosity amid ambiguity and learned how to be conscious of biases and preconceived solutions. Additionally, staff got face time with executive leaders across the campus, something they rarely do.
The staff in that first experiment have continued sharing insights on part-time students. They have also helped other students and staff apply design thinking. The result has been a growing community ready to coach others in future design thinking experiments.
As a result of this design thinking experiment, other departments requested design thinking workshops for their staff. These workshops helped staff learn about design thinking, but so far we seem to have had limited results in changing the way teams work and in creating a culture that enables faster innovation.
The second experiment I completed this summer was a Design Academy focused on "student-centered design." This was a non-credit bearing, seven-week experience where entire staff teams could learn design thinking and apply it to a project of strategic importance. The Learning Technology Solutions staff formed two teams to explore how to scale use of open education resources. The staff from Service Learning explored how to use social innovation in service learning experiences. Three teams of staff from the Student Affairs division explored how to improve the experience of first-generation students at Boise State.
The teams all reported similar learning outcomes as the first set of staff members, and they were able to learn how to apply design thinking. However, the results of their project was mixed. Design teams that brought their full staff, including directors, had the best results.
I am interested in changing how our division and university work together to identify needs and come up with creative solutions. With that as my goal, I have learned the following during my two years of experiments:
The university must enable spaces for experimentation to encourage staff; innovation is stifled and staff become discouraged when procedures and structure prohibit testing insights and ideas
The work of design thinking takes time. Gaining trust and buy-in is an important part of the process; embedding this method involves freeing capacity for staff to rise from the day-to-day grind and spend the time needed to engage in human-centered design
Much of our work has become specialized, and disconnected areas of expertise continue to exist; to learn about students' needs and establish effective solutions, we must find ways of organizing our work so we are learning together
Design thinking is an effective tool to spur innovation and arrive at breakthrough ideas; it is most effective when teams have healthy leadership, communication, team dynamics, and mutual trust.
Innovation happens as we focus less on "innovation" and more on developing "innovators"—growing a community of staff that are embedding a student-centered design mindset
Design thinking is best implemented with coaching over an extended period of time alongside their team and leaders who have devoted time and space to apply design thinking to real challenges they are facing
My next experiment aims to incorporate these lessons. Division leadership is exploring how to deploy a set of design thinking teams, including undergraduate students, to focus on understanding the needs of students that data show are not progressing toward their degree at the same rate as other students. We are at an inflection point where design thinking can be more than a workshop or passing corporate fad and truly impact our culture, work, and students.