By Jiwon Park, M.F.A.
South Korea is a patriarchal, sexually conservative society where the subject of sex has traditionally been taboo. Korean women have long felt uncomfortable purchasing or openly carrying condoms, which are designed and packaged with a masculine message and arousing imagery. Being excluded from the branding and marketing of condoms has left Korean women more vulnerable to unwanted pregnancy and STDs, until now. A progressive South Korean cosmetics brand is working to tackle this problem by creating products that are designed by and for women.  
The Challenge 
Sexually Conservative Culture and the Double Standard
Despite South Korea's rigorous economic and technological advancement over the last half-century, a deep vein of traditional Confucian values still courses through society. A nation with egregious gender inequality despite its modernization, South Korea is one of the most patriarchal and conservative countries in the developed world. In fact, according to the World Economic Forum's 2017 Global Gender Gap Report, South Korea ranked 118th out of 144 countries in terms of gender equality, just below Ethiopia and Tunisia and only above a few Middle Eastern countries. 
In comparison with Western cultures, South Korean society is much more sexually conservative. Moreover, lingering gender-based double standards make the problem much more complicated. Although Korean men and women are increasingly sexually active and discuss these matters much more openly than in the past, they remain surprisingly conservative in terms of female sexuality. The imposed attitudes on women's expected social roles have not yet changed. Korean society still emphasizes the importance of women's virginity, with single women expected to be sexually passive in their relationships. In this patriarchal society where the power structure between men and women is connected to the "purity ideology," most Korean women make sure to distance themselves from sexually active women and instead feign inexperience and näiveté. It is 2018, but female sexuality is still a highly taboo subject that is not openly discussed. When women talk about their sex lives publicly, they will likely be slut-shamed and possibly even become targets of misogynistic hate crimes. 
In the same vein, many women stick to the traditional notion that contraception is entirely the man's responsibility. According to a survey by the World Health Organization, not only do more than 60 percent of Korean women not use any contraception at all, many also rely on their sex partners for birth control; they do not independently keep up with contraception or even insist on their partners using condoms. However, the burden of preventing pregnancy has long fallen on women in Korean society, who often have to turn to more serious methods such as the morning-after pill or abortion. In 2017, at least 340,000 abortions were conducted1, a number nearly as large as the 350,000 live births reported in that year. Although abortion is illegal in Korea, this statistic shows that the country has one of the highest rates among member countries of the Organization for Economic Cooperation and Development (OECD). 
Condom and Sexual Wellness Market 
Condoms are without argument the easiest method for having safe sex—specifically, protecting oneself against sexually transmitted infections and unintended pregnancies. However, the rate of condom usage in South Korea was standing at a mere 11.5 percent in 20152 , the lowest among all member states of the OECD.
The reluctance toward using condoms is rooted in cultural biases. Specifically, Korean men consider condoms a denial of intimacy and a sign of distrust, claiming that when women ask to use them, it "kills the mood." Making the issue more difficult is that from the woman's perspective, only men are allowed to decide contraception methods, creating a situation in which when women provide their own condoms, they are seen as sexually promiscuous or impure. Korean women are thus willing to go to many lengths to avoid this sort of slut-shaming, even if it means bearing the burden of unsafe sex.  
Even in the US, a society that is considered to be profoundly sexually liberal, many people are still uncomfortable with women carrying condoms. Even so, research shows that in America, more than 40 percent of condoms are purchased by women. However, In South Korea, the rate is substantially lower—below 20 percent. 
The major condom brands in the Korean market today are produced and designed solely for male consumers. Everything about the condom, from its branding to its package design to its tone of communication, is geared toward men. This characteristic creates an invisible barrier against women, indoctrinating them into believing that condoms are solely the property of men, a sad reality that pushes women further away from this market at every step. 
Condoms are in fact classified as a medical device. They are for the most sensitive areas of our bodies, and for women, they actually go inside our bodies. However, in a context where the product is made exclusively with male consumers in mind who value sexual pleasure more than female health and safety, condom companies often only care about the sex appeal of their product and have no interest in avoiding ingredients that might be harmful to women. 
The Brand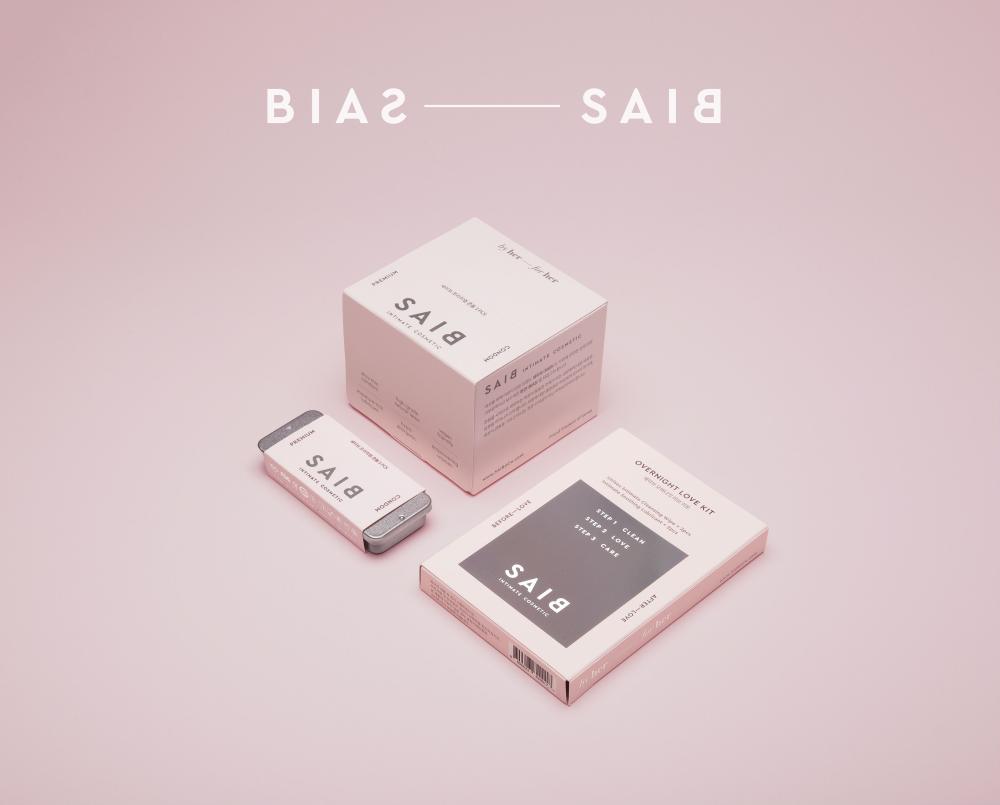 Intimate Cosmetic for Sexual Well-being
While looking at ways to take away the stigma surrounding contraception and to tackle entrenched cultural taboos around women's sexuality, sexual wellness brand SAIB & Co. entered the Korean market in summer 2018 with the launch of two day-to-day essential products: "SAIB Premium Condom" and "SAIB Overnight Love Kit." 
The brand name "SAIB" (/seiv/) is an inversion of the word "BIAS," signaling an overturning of the gender "bias" in Korea in order to destigmatize women's engagement with sexual activity. Moreover, the accompanying tagline "by her—for her" represents the brand's female-first principle: a product made specifically with women in mind by a team of women.
Introducing itself as an "intimate cosmetic for sexual well-being," the brand supports female empowerment with a mission to "embrace one's own sexuality by normalizing the perception of sexual wellness products, redefining them as a natural and healthy part of life and of beauty care." The brand aims to defy gender-based double standards and to promote more autonomy for women by offering better, healthier, safer and women-friendlier alternatives. 
SAIB believes that buying, carrying, using, and talking about sexual wellness products should be something women are proud, instead of ashamed, to do. It is about women taking control of their own bodies and sexual health. The brand hopes to convey a message of equal responsibility when it comes to contraception and sexual health, and encourages women to take the initiative.
Furthermore, SAIB aims to cultivate a culture in which women actively participate in their sexual autonomy. The brand encourages them to engage in open discourse about sexually biased gender roles and stigmas as well as their own sexual enjoyment and health.
SAIB's target customers are in their 20s and 30s: urban and contemporary women who are smart, empowered, independent, confident and unafraid to stand up for their beliefs; thoughtful consumers who care about ingredients and design; conscious consumers who choose to buy natural, fair-trade, organic, and cruelty-free vegan products; responsible consumers who are considerate about their own health, the environment and the message behind the brand. 
SAIB products will be sold in conventional drugstores, health and beauty stores and convenience stores, as well as in more specialized locations where women feel comfortable exploring the products. The brand plans on distributing its products through female-oriented fashion and lifestyle select shops such as Sephora, Victoria's Secret, Anthropologie and Urban Outfitters. SAIB will also utilize e-commerce channels popular with women and offer subscriptions and gifting capabilities. Furthermore, SAIB plans to collaborate with diverse brands who similarly target empowered and proactive women.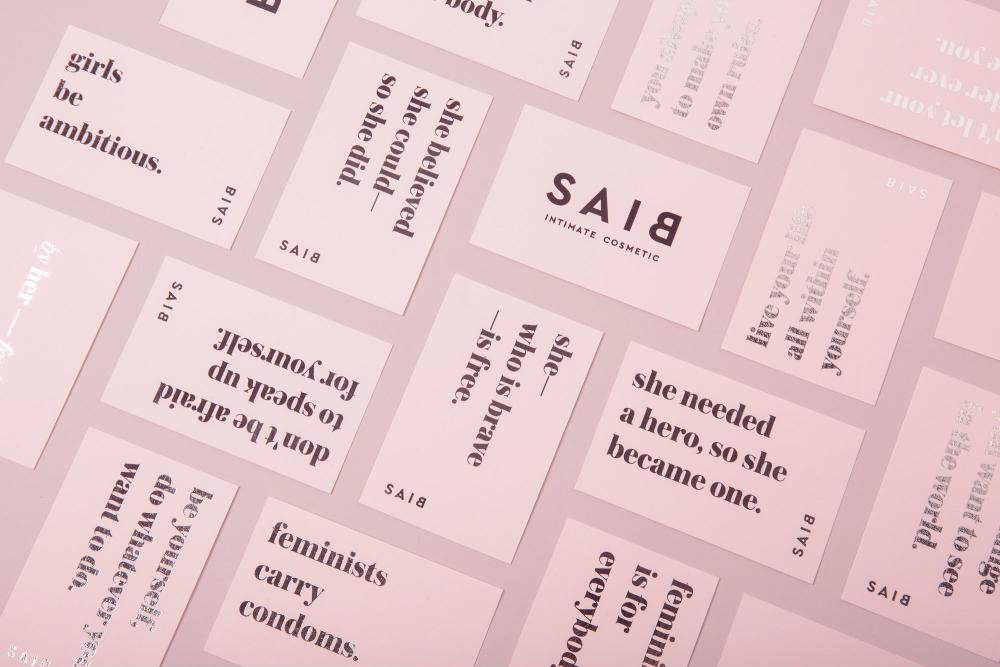 Brand Color: SAIB pink
Millennial Pink—also known as Tumblr Pink, Scandi Pink, Rose Quartz or Pale Dogwood3—is a warm, soft pink without the "sugary prettiness." This subtle, muted pink is not just calming but also politically empowering. 
Millennial Pink is "an aesthetic distillation of the ideals of contemporary feminism: unabashedly female but removed from the constraining associations of the past."4 Defying the gender-biased conventional pink associated with a girly image, this pale shade resonates with millennials' understanding of new kinds of femininity, representing the gender-neutral zeitgeist of our times. The color has been embraced by all genders, becoming androgynous and thus genderless.
SAIB has chosen to use this new generation of pink in its branding and packaging, as it perfectly aligns with the company's design direction: embracing femininity while redefining it.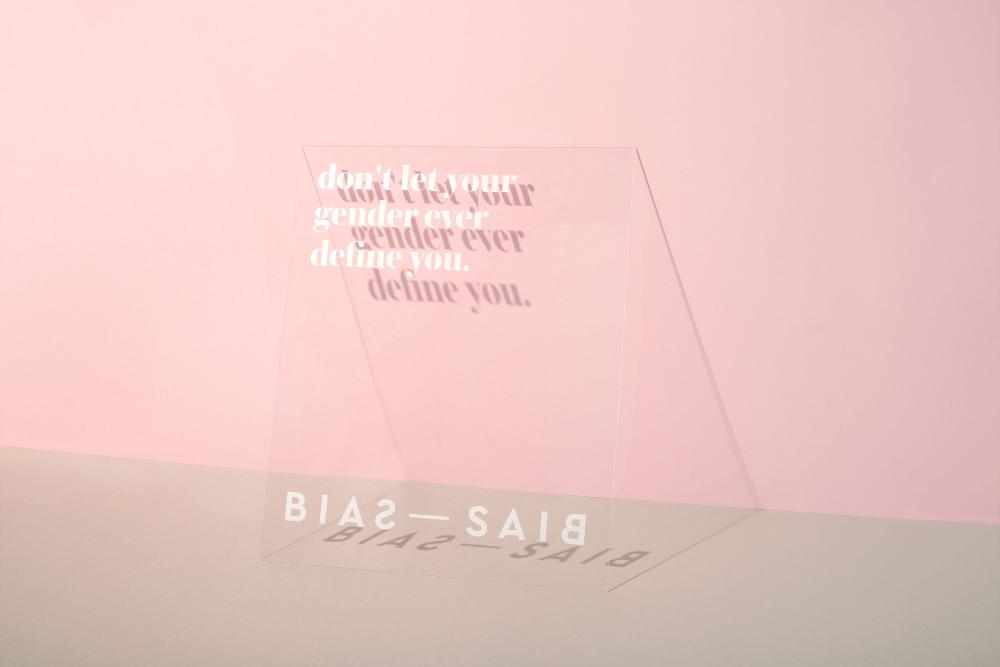 Brand Principle
SAIB aims to confront double standards that have led to gender inequities and to create a positive shift in women's sexual health. The message behind SAIB is straightforward: embracing women's sexuality by normalizing its perception. It is a simple yet modern design and message that resembles female cosmetic brands instead of existing sexual wellness brands, using verbal and visual expressions that resonate with women and the issues most relevant to them. Following these design principles, SAIB attempts to dilute gender biases and shift the male-dominant image promoted by current sexual wellness products in the market.
Embracing Modern Femininity
The brand SAIB and its design embrace modern femininity: a new kind of womanliness that defies still-lingering traditional notions of femininity. 
 
Making Women Proud
The brand SAIB and its design are extensions of the company's mission to destigmatize negative perceptions around women's sexual wellness and around women exercising sexual agency. The package is designed to combat embarrassment and shyness in women themselves and to stop the criticism and disapproval of others. With its unabashedly positive tone, SAIB products are designed so that women feel comfortable and even proud to carry them around.
 
Being Simple with No Frills 
The features, ingredients, and message of SAIB's products are restricted only to the essential with no added frills. 
SAIB avoids creating extravagant marketing hype for its product and especially works to eliminate the use of exaggerated rhetoric in its message. Keeping everything plain and simple is fundamental. 
 
Being Frank and Open 
SAIB puts honesty first and will always maintain full transparency with regard to its customers. Although not required by law, SAIB discloses every single ingredient in its products as well as information about the manufacturing. There are no hidden, sugar-coated messages to be found in SAIB products and in the SAIB campaign. A socially oriented company, SAIB also encourages women to discuss their sexual experiences more openly to promote a culture of communication and acceptance in Korea. 
 
Keeping it Healthy, Natural and Female-friendly
SAIB cares about what women are putting in their bodies; the products are made of non-toxic and all natural ingredients without any artificial preservatives or chemical additives that could potentially prove to be harmful or even cancerous for women. 
The Product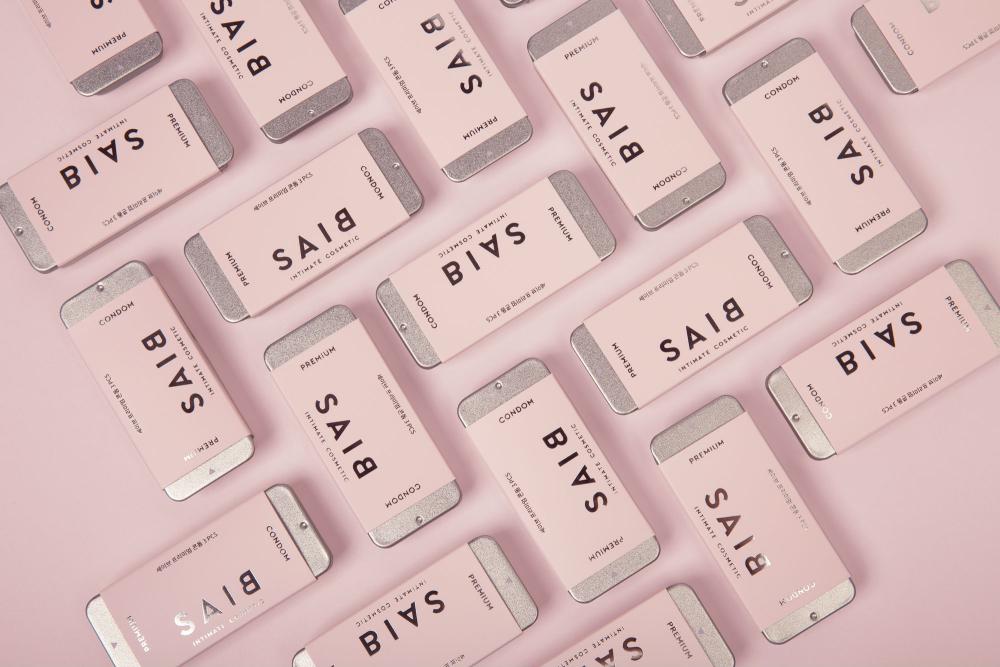 The SAIB Premium Condom
The condom, since its inception in the 1920s, has not changed much. The majority of condoms in the market are made out of the same material—latex rubber— and have similar levels of quality with regard to functionality. SAIB condoms are no exception; they do not use any newly invented high-tech material or involve any groundbreaking production technology. 
However, what makes the SAIB Premium Condom special is that unlike other condoms that are geared toward men, condoms by SAIB are created by women specifically for the female population. SAIB condoms reflect the female perspective and offer better, healthier, safer and more transparent products for the betterment of women's sexual health and enjoyment. 
The SAIB Premium Condom is made with 100 percent natural, high-grade pure latex that is directly extracted from rubber trees. Moreover, unlike the majority of condoms available on the market that are made with the animal product casein, SAIB condoms are vegan-friendly. They are crafted using a unique formula of plant-based ingredients. No animal byproducts are used during the manufacturing process. 
SAIB condoms are ultra-thin, which allows for a heightened sensation. However, the condom is still just as secure with no compromise on safety. SAIB products are also enhanced with smooth, safe and moisture-rich silicone lubrication. 
The SAIB Premium Condom boasts ingredients that are simple and safe and has eliminated carcinogens and other harmful or unnecessary chemical additives commonly found in other brands. Specifically, our SAIB condoms are free of chemical irritants, dyes, fragrances  and spermicides. They do not contain nitrosamine, Nonoxynol-9, glycerin, benzocaine or paraben.
SAIB condoms are created with hyper-sensitive bodies in mind. In order to be certified as safe, the products are required to go through biological stability testing and five bacteriological examinations. In fact, the SAIB Premium Condom is FDA approved, GMP certified and European CE certified. It follows ISO standards, and moreover, each SAIB Premium Condom has passed both a biological stability and physical stability test. A proud product of Korea, SAIB condoms are also tested with electrical inspection and wind pressure inspection to ensure maximum safety. 
Most importantly, the SAIB Premium Condom is packaged in stylish, discreet tin cases that fit perfectly in purses so that women can carry them without feeling embarrassed. Its resemblance to everyday cosmetic products encourages  first-time consumers to enter the market with minimal hesitation. The packaging also prevents unwanted damage and deterioration to the condoms by preventing them from bending and by reducing any unnecessary friction or prolonged exposure to body heat.
SAIB Overnight Love Kit
It is important to partake in certain practices before, during, and after sex to keep oneself healthy and STI-free. Being health-conscious during these three phases helps dramatically in preventing any vaginal or urinary tract infections. However, it can be quite difficult to be proactive about hygiene matters in the middle of the act. Thus, the SAIB Overnight Love Kit was created to provide an easier and more convenient way for women to keep up with these important practices.  
The SAIB Overnight Love Kit is comprised of two essential products necessary for a romantic and healthy night of fun: the SAIB Intimate Soothing Lubricant and the SAIB Unisex Intimate Cleansing Wipe. They come in individually packaged, on-the-go pouches that are purse-friendly. 
SAIB Intimate Soothing Lubricant:
Studies show that 80 percent of women experience pain during sex due to vaginal dryness, and this friction oftentimes exacerbated by the dryness, tends to promote STI transmission. To remedy this issue, SAIB's water-based lubricant goes on smoothly and moistly to reduce friction, and then dries without leaving any stickiness. The SAIB Intimate Soothing Lubricant is a 91.7 percent organic, natural, biocompatible personal lubricant made to match the osmotic pressure and acidity in women's bodies, 260–290 mOsm/kg and pH 4–5, to help balance vaginal pH and prevent yeast infections. It is a plant-based and vegan-friendly lubricant made with soothing Centella asiatica leaf water. Its non-toxic, and the all-natural formula does not contain any petroleum-derived chemicals that can cause bacterial vaginosis or other negative effects. It also is free of parabens, glycerin, fragrances and dyes; is not tested on animals; and is safe to use with latex condoms.
SAIB Unisex Intimate Cleansing Wipe:
Although taking a shower before and after sex is the easiest and most effective way to care for the vagina, in situations where it is not possible, sexual partners can clean themselves with SAIB hygienic wipes to help get rid of any harmful bacteria. The SAIB Unisex Intimate Cleansing Wipe is intended for use by both men and women, either before or after sex, to help avoid future infections that might occur with sexual contact. Made with 100 percent soft, breathable, absorbent and hypoallergenic cotton, it is the effortless way to freshen up and clean up without interfering with the vagina's natural pH.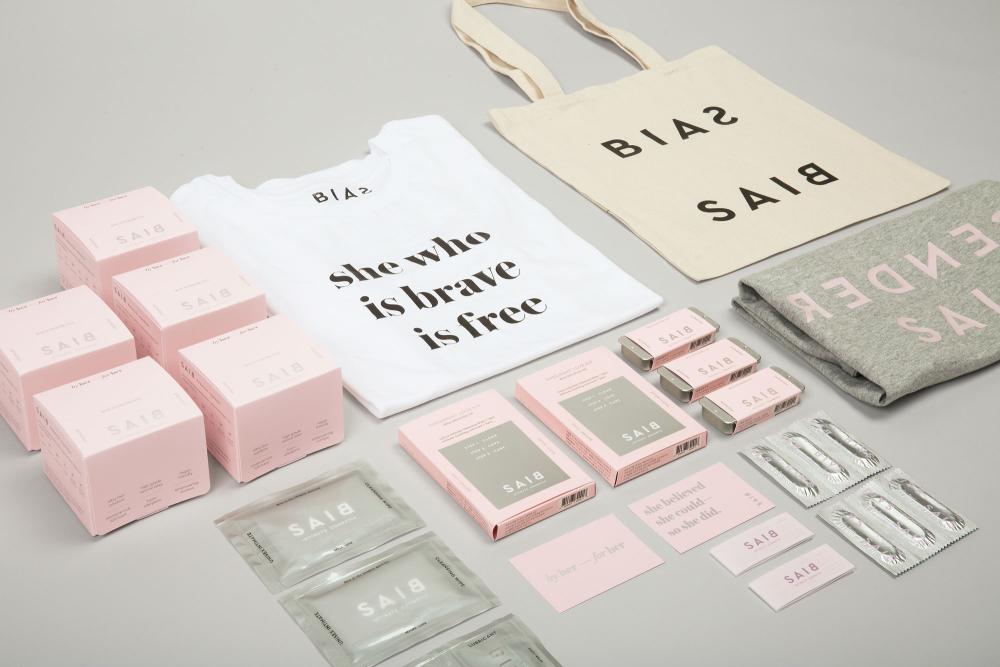 Going Forward
SAIB not only aims to promote its products but also act as outspoken advocates for women's sexual rights, defying Korean society's lopsided stance toward sex. SAIB devotes 10 percent of its sales profits to various campaigns promoting gender equality and female empowerment. By actively engaging with women consumers, SAIB wishes to cultivate an open culture in which women can openly discuss their sexuality without any shame or stigma. 
Although the country has recently taken on a much more liberal and open attitude toward sexual acts, traditional gender-based double standards are still pervasive. Destigmatizing the societal move toward women exercising sexual agency may take a while. In the meantime, however, it is high time to start the explicit conversation about these thorny issues surrounding sex culture. SAIB will take on a pioneering role in challenging the status quo and altering cultural prejudices.
Read more from the Journal of Design and Creative Technologies
References 
1 Sung, Woong Kyu. "Abortion in South Korea: The Law and the Reality." International Journal of Law, Policy and the Family 26 (December 1, 2012): 278-305. doi:10.1093/lawfam/ebs011.
2Park, Soyoung. "Condom Usage Rate Has Fallen to One-Third in 10 Years." Hankook Ilbo (Seoul), September 29, 2017. http://www.hankookilbo.com/v/0779407e8940479e9d3f0fead8e3746d.
3 Pantone named "Rose Quartz" its joint color of the year for 2016, and "Pale Dogwood" is one of its colors for spring 2017.
4Mitchell, Nancy. "The Real Reason No One Can Shut Up About Millennial Pink." Apartment Therapy, October 10, 2017. Accessed July 20, 2018. https://www.apartmenttherapy.com/the-real-reason-no-one-can-shut-up-about-millennial-pink-244900.