By Luke Johnson
PART ONE: A Program is Born
In 2016, Santa Monica College's Interaction Design (IxD) program became one of 15 California community colleges to offer a bachelor's degree—a progressive and challenging move for a community college that requires extra study and rigor for both students and faculty. This particular program was created to fill an equity gap in the emerging field of interaction design. When the IxD program began enrolling students, only two private universities in California offered a degree in this field at a cost of more than $160,000 over four years.
A degree from the IxD program costs a little over $10,000.
Students apply to the IxD program because it makes financial sense—and because it might be their only option to earn a college bachelor's degree. The program attracts a diverse set of students with an array of talents and insights who, given their circumstances, might not otherwise be able to pursue tech-focused careers. It is a vigorous, demanding degree that goes beyond an associate degree. The experiences and relationships built over the course of study should contribute to how students transition from the classroom to a career.
Santa Monica College has the distinct advantage of being surrounded by tech's biggest companies in Silicon Beach: Alphabet (Google), Facebook, SpaceX, Electronic Arts (EA), and Snap, Inc. The 2019 reported revenues of these companies are $166 billion, $75.2 billion, $2.5 billion, $5.8 billion, and $1.9 billion respectively. You can click on the links for their diversity statements and reports, if they exist.
The IxD program, specifically, has partnered with Hulu ($1.9 billion), Bird Rides, Inc. ($120 million), and Red Bull ($6.5 billion).
In June 2020, the IxD program graduated its third cohort. In total, the program has graduated 52 students since its inception in 2016. From these graduates, only one works at any of the companies listed above (Facebook). Three recent graduates currently intern at Snap, Inc. That's it.
I fully disclose that I approach this issue as an employee of Santa Monica College and core faculty member of the IxD program. Yet anyone can grasp the incongruity, inequity, and injustice of these facts. To be clear: I credit these companies with making a concerted effort to open educational opportunities and funding for underserved communities—especially those who have partnered directly with our program. However, I am also an advocate for my students and a commercial designer who sees an opportunity to advantage both sides.
This paper focuses on how tech can address the final hurdle of hiring students from different educational, socioeconomic, and cultural backgrounds. These recommendations come from applied interactions with the tech industry. They are both practical and aspirational. In other words, this is a call to action for big tech to do even more in diversifying their workforce through successful classroom collaborations.
This video—made by Bixel Exchange—highlights Cohort 2's final presentations at Hulu! In this design challenge, students explored: "How might we design Hulu to be more accessible for people with needs or different challenges when it comes to discovering and/or viewing content?"
PART TWO: The Case for Diverse Perspectives
For designers, solving a problem begins with understanding the audience. In the case of tech's poor diversity numbers, let us first look at who currently attends community college, and specifically, who attends the IxD program. The demographics for students who take courses within the Design Technology department, which houses Animation, Graphic Design, Interior Architectural Design, and Interaction Design B.S., reflect:
Latinx 32.2%,
White 28.9%
Asian 12%
Black 9.2%
Two or more races 5.3%
Native American 0.2%
Pacific Islander <1%
Unreported 12.3%
(The campus supports 31,492 students, 1,254 of whom take courses in the Design Technology department [Santa Monica College, 2019].)
According to California Community College's RP Group, community college students must rise above factors that other college students might not face, including financial stress, being a first-generation American citizen being the first in their family to attend college, negative perceptions of academic potential in their community, and lack of helpful guidance and career support.
As a pilot program—and one serving a community college—it's often the responsibility of faculty to identify potential partners, pitch for these collaborations, and maintain relationships with industry. The IxD program simply lacks the institutional knowledge and career service resources to build robust industry connections. There are no alumni weekends nor booster club meetings. Likewise, our students often don't have the ability to take low-pay or no-pay internships. Community college students need more—and the tech industry can do more to help.
In fact, tech should be lining up to support and partner with community colleges. Study after study shows that diversity increases profitability and creativity. It absolutely astounds me that no one in the tech industry looks at these numbers and begins to drool.
One would assume that a candidate who sought—and completed—a more vigorous course of study by enrolling in the only interaction bachelor's program at a community college in the United States has already distinguished themselves from their peers. Combining that determination with the aforementioned demographic numbers and benefits, it shocks me that the ranks of IxD degree recipients aren't flooded with job offers. And yet, IxD has ONE alum working at the five biggest tech firms. This. Is. Rubbish.
At Santa Monica's IxD program, there are several ways that the tech industry currently interacts with the program, including membership on an IxD Advisory Board, class guests (speakers, workshops, critiques), and mentorships. However, the most intimate and involved way industry partners work with the program is through design challenges.
Design challenges provide a platform for students and faculty to explore questions, themes, or problems specific to—and defined with—an external partner. In the IxD program, we've done several semester-long design challenges with industry partners. They have ranged from established tech companies to start-ups, they require more than a nominal investment on behalf of both parties, and they are often the highlight of an IxD student's time in the program.
We are very grateful for these partnerships.
However, the global pandemic and recent social justice movement have laid bare the vast inequalities within our society—especially within the country's educational system. The status quo is simply not good enough. In fact, it's embarrassing. I believe that our tech partners can—and should—do more to address this inequity gap.
I also believe that tech wants to help, and design challenges are the best means to that end. For our students, a design challenge may be the first time interacting in a role with a tech company beyond that of a consumer. It is their first time to the dance.
In a professional world with tight deadlines and financial bottom lines, taking on a design challenge means taking on additional work. However, the benefits to a company are immense.
A Diverse Perspective: Graduates from big-name design schools are a known quantity. We're a resilient program with resilient students. Our program offers a different approach to problem solving. Diversity is not always about race but also diversity in perspective.
 
Understanding The Student Audience: Design challenges are research-based projects where students conduct primary and secondary research with a target audience, namely other students. Santa Monica College, a community college, enrolls students with a diversity of ethnicity, age, familial roles, and employment status.

Industry Partners: I recommend tailoring any project to better understanding how your product, service, or platform is perceived by students. Students taking this class will provide direct feedback to your questions. More importantly, they have direct access to other students whom they interview and survey, and with whom they share working prototypes, to better understand this audience's motivations and needs.
 
Identify Research-Based Insights: Design challenges are not thought exercises. Instead, they reflect a structured inquiry with the goal of identifying, highlighting, and promoting insights. The best insights should be implemented. Otherwise, what's the point of a working collaboration?
 
Developing a Diverse Hiring Pipeline: These projects provide partners a chance to see how our students respond to feedback, direction, and problem solving in a team setting. In short: classroom collaborations offer a direct path for tech to work with, and then hire, students from diverse backgrounds. We want these partnerships to result in work opportunities for our students.
PART THREE: Ways to Design Meaningful Partnerships
Below is a project journey map, which visualizes ways industry can amplify these partnerships. The following recommendations reflect hard-earned lessons from past collaborations. They ask our partners to raise their level of commitment with the goal of creating even more meaningful interactions between the tech industry and students.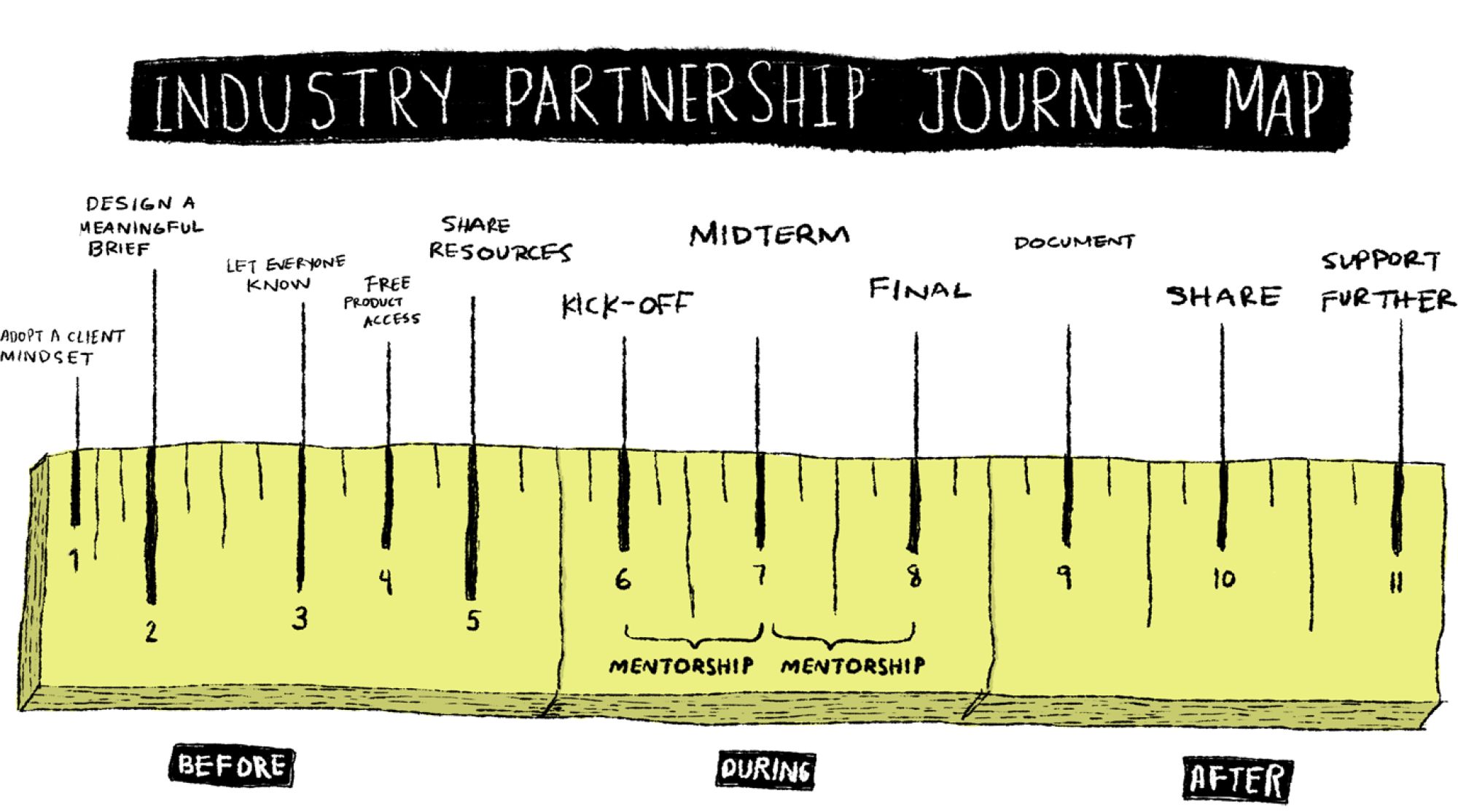 BEFORE
Adopt a Project/Client Mindset: Consider the academic institution as another client—and plan accordingly. This means setting aside the time, energy, and resources to make this project mutually beneficial.
 
Design a Meaningful Project Brief: Projects briefs should be initiated by the industry partner and focus on a current challenge within their company. An industry-driven brief also creates an emotional investment in the outcome for both sides, because the results have the potential to be implemented.
 
Let EVERYONE in Your Company Know About the Project: In my experience, these projects are often driven by a fellow designer—usually at a senior level—who becomes the partnership's internal advocate.

Successful projects, however, require a team—a team of advocates and a team of support to ensure the project has the proper backing and resources to move forward. This often means looping in:

Legal (NDAs)
Purchasing (budget)
Marketing (project promotion)
Design (UI/UX and front/backend development)
Research (past/current research as well as research facilities)
C-Level leadership (all the reasons)
 

Provide (Free) Access to Your Product: It may seem obvious that the partner provides free access to the project's product, service or platform—but that hasn't always been the case. Unfortunately, many of our students do not have financial means to watch, rent, drink, or play with the product, service or platform. Providing free access is a financial cost that the corporate partner should bear. It also reflects an investment in the outcome and allows students to make informed recommendations.
 
Share Existing Research Insights and Resources: Sharing existing research up front prevents students from reinventing the wheel and moves research forward. I would also recommend leveraging a partner's human resources (recruitment practices) as well as physical resources (testing space or hardware).

Finally, industry partners should create a small budget to pay research participants. Paying participants for their time is good research practice and ensures better data.
DURING
Hold a Kickoff Meeting: Formal projects require formal kickoffs. Usually done at the academic institution, this meeting sets the tone for the rest of the collaboration. Industry partners: Plan to share the history of your company, past research, communication preferences, and your team's design process.
 
Group Coaching/Mentorship: We've traditionally run design challenges as group projects. Assigning a mentor to each group provides a single point of contact. Mentors can be designers, project managers, developers, marketers—anyone in the company with direct knowledge and impact on the project.

The mentor and students agree on a mutually convenient time—usually one hour per week—to discuss the project and answer any questions. This exercise helps students set communication expectations with future stakeholders/clients.
 
Midterm Check-In: Also held at the academic institution, this midpoint check-in provides an opportunity for students to share their work-to-date and for partners to provide detailed feedback. It also gives student teams a chance to pivot projects if they've missed the mark (and before it's too late).
 
Final Presentation (on the Partner's Home Turf): Nothing raises the temperature in a class more than knowing that students will be presenting their work to external stakeholders. It creates a level of seriousness, professionalism, and buzz of excitement—students love visiting your place of work!

Industry Partners: Presenting in a physical location is clearly a problem during a pandemic. Let's be creative on how to make this work! For example, invite a C-level executive if the final is on Zoom, which would increase the temperature for everyone!
AFTER
Project Documentation: As part of the class, students are asked to document all aspects of their design process. This work is then formatted into a website and shared back with the partner as a tangible example of the collaboration.

IxD partnership websites include: Hulu, Bird, and Red Bull.
 
Promote the Partnership: Once completed, share the work with both an internal and external audience. Promoting the collaboration is a win for everyone. Celebrate it.
 
Further Support Opportunities: There are many ways partners can continue to support the IxD program after the end of a design challenge.
 

Curriculum Workshop: Assist with curriculum updates and changes as part of an annual curriculum workshop.
Individual Mentorship: Provide mentorship opportunities to an IxD student (or find a colleague who can mentor a student).
Teach: This could be in the form of:

Offering a master class or workshop (we know you've got one in your back pocket!)
Providing feedback as part of studio class or review.

Financial Donation: The IxD program would welcome a financial donation to help bring in guest speakers or provide program resources that have taken a direct hit due to budget cuts.
SUMMARY
The current social justice movement offers an opportunity to reinvent classroom collaborations between industry and academia. This is especially true for partnerships involving community colleges, which often lack financial, physical, and cultural resources of traditional academic institutions and where students must overcome barriers that other students might not face.
In my experience, industry partnerships also begin on unequal footing—the community college seeks out an industry partner, while the industry partner accepts the partnership as a one-off act of charity.
Instead, I recommend industry partners approach these projects with a client mindset. This means devoting the time, energy and resources to these projects. Gone are the days of throwing money and lip service at tech's lack of diversity—it needs to become emotionally involved through action and by building relationships early. Design challenges provide a platform for meaningful collaborations with students in need.
The recommendations in this paper provide a roadmap for creating mutually beneficial design challenges. However, these collaborations will always be works in progress, with results varying from partner to partner—which is good!
Finally, these collaborations offer an opportunity for the tech industry to identify talent to make their places of work more diverse—both in thought and in representation. This is a call to action. Hire our students.
UPDATE: Since the writing of this article, Red Bull and Activision have each hired one of our students. It begins.
Luke Johnson is an employee engagement strategist and design educator whose portfolio includes work for NASA's Jet Propulsion Laboratory, Nokia, and Riot Games. He collaborates with HR, internal comms, and executives to develop customized products to solve unique, internal problems. Luke holds an MFA in Media Design Practices from ArtCenter College of Design. He currently works as a professor in Graphic Design and Interaction Design at Santa Monica College.
Read more from the Journal of Design and Creative Technologies