Important
Admission
Deadlines
Undergraduate
First-Year: December 1, 2023
External Transfer: March 1, 2024
Internal Transfer: May 1, 2024
Graduate
M.F.A. in Design: January 24, 2024
M.A. in Design: April 29, 2024
Come & Visit Us
Get a behind-the-scenes look at our program and creative spaces in Austin.
Creativity at Work
Graphic design, immersive media, digital technologies, and more.
Get Career Ready
From internships to jobs, we'll help you jumpstart your career.
Tuition & Funding
Find out more about investing in your future through an education at UT.
Upcoming Events
Join us for a special celebration as we launch the Lab for Immersive Media (LIM) in the Department of Arts and Entertainment Technologies.
Learn more about the Master of Fine Arts in Design program at The University of Texas at Austin.
From Campus to Career
Design student Khalil J. Davis presenting his work during the Fall 2022 Sophomore Review in the Department of Design at UT Austin
Kahlil J. Davis, B.A. in Design
Class of 2022 AET graduate Grace Troutman in her stole and cowgirl hat in front of the UT Austin tower
Grace Troutman, Marketing Manager at Rolling Stone
Featured Stories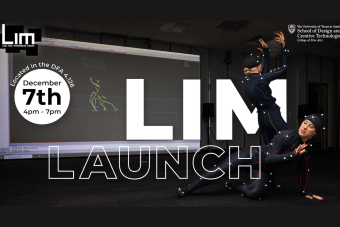 The Department of Arts and Entertainment Technologies (AET) is thrilled to announce the opening of its newest space for innovation and creativity, the Lab for Immersive Media (LIM). The LIM is an interactive and immersive media laboratory that enables novel research and entertainment experiences in virtual and physical spaces.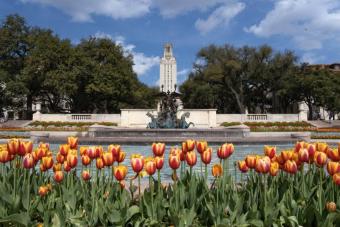 UT News
The Creative Research Award was presented to Professor Kate Catterall for "Drawing the Ring of Steel." The one-day theatrical event in Belfast commemorated the 30-year ethno-nationalist conflict known as the Troubles in Northern Ireland, specifically focusing on the 2.2-mile security cordon of 12-foot-tall steel, concrete and barbed wire barricades that encircled Belfast.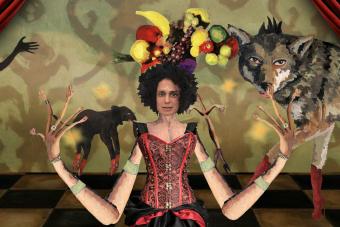 On October 21, the Elisabet Ney Museum hosted Re-Imagining the Ney: A Community Art Bash. German-American sculptress Elisabet Ney's mission was brought to life by Austin contemporary visual artists Agustina Rodriguez, Lisa B. Woods, and SDCT's very own Yuliya Lanina. The AET Assistant Professor presented four sets of artwork that showcased the struggles, creativities, and common lived experiences of womanhood.