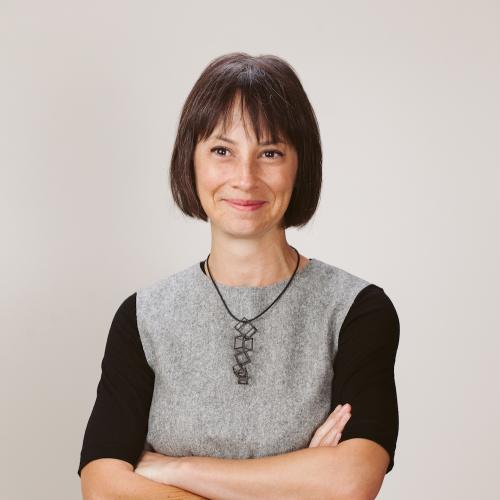 Chair, Department of Design

Professor of Practice, Design

Fellow of Marguerite Fairchild Centennial Professorship
Kate Canales is a Professor of Practice and the Department Chair in the Department of Design at UT's School of Design and Creative Technologies. In this role she oversees strategy, operations, governance, curriculum and experience design for all four design degrees (B.A., B.F.A., M.A. and M.F.A.) as well as the Center for Integrated Design, which offers design coursework to hundreds of non-design majors each year. She joined UT in the summer of 2018.
Under Kate's leadership, the department has focused on expanding student access to design education and expanding the department's definition of design work through partnerships, hiring, and new curriculum. Beginning in 2020, Kate guided a radical shift in undergraduate admissions guidelines, eliminating the elitist and outdated portfolio requirement, an effort aimed at diversifying the student body both demographically and disciplinarily. She has shepherded the development and implementation of the groundbreaking M.A. in Design focused on Health – a bold partnership with UT's Dell Medical School. Additionally, the renewal of the M.F.A. in Design – spearheaded by Kate after a two-year hiatus in the program – now takes full advantage of the larger University of Texas context by asking students to develop thesis work in collaboration with another discipline on campus. All of this has been possible by the joint effort and hard work of the incredible faculty and staff in the Department of Design.
Prior to UT, Kate founded and led the pioneering M.A. in Design and Innovation (MADI) at SMU's Lyle School of Engineering. This program's blueprint drew heavily from Kate's experiences as a professional designer – first at IDEO and later at frog, both internationally renowned design firms – as well as the expertise of the team she assembled at SMU, which included maker education, engineering, architecture, student services and design thinking experts.
Kate's creative practice and curiosity center around the places where design and human behavior influence one another. What does design compel (or allow) us to do? And how can our actions and emotions inform better design? She teaches classes in design research, prototyping, and experience design.
Kate holds a BS in Mechanical Engineering from Stanford University. She is a Texas native who enjoys hiking, knitting, weaving, sketching, and travel. She and her husband have two kids and two dogs, and together run a happy, slightly chaotic household in central Austin. 
Contact Information