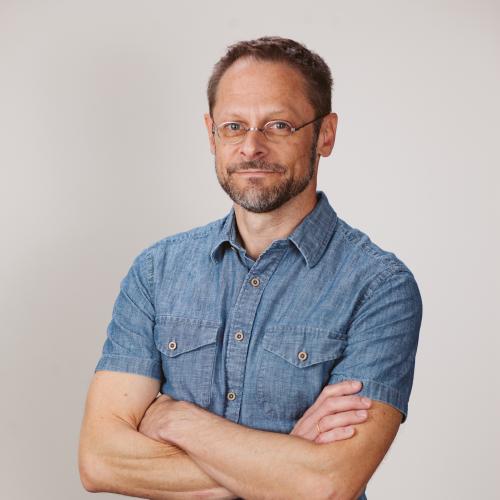 Associate Professor of Practice, Design
Jon Freach has a 30-year background in design. Currently, he is an Associate Professor of Practice at The University of Texas at Austin School of Design and Creative Technologies and the Center for Integrated Design.
Jon also works with Bloomberg Philanthropies providing design coaching and direction for cities in the Bloomberg-Harvard City Innovation Program and the Global Mayors Challenge. Since 2018 he has worked with the cities of Lincoln, NE developing an autonomous vehicle system to decrease congestion; Durham, NC prototyping incentivization strategies to increase public transit ridership; Tulsa, OK to improve staff morale in their Animal Welfare Center; Arlington, TX integrating mental health and wellbeing services between city and county agencies; Oklahoma City, OK increasing community amongst seniors in the COVID pandemic; and New Orleans, LA re-establishing trust with residents by explaining how things work in their city.
From 2008-2018, Jon was a Principal Designer and Executive Director of Design Research at frog, one of the world's largest design agencies, where he provided project consultation, organizational leadership, and mentorship to a global community of design, strategy, and technology staff.
Jon is also a founding professor at the Austin Center for Design (ac4d) and has taught and lectured about design and innovation at a number of universities including Harvard Business School, The University of Texas McCombs School of Business, Southern Methodist University, and CEDIM (Centro de Estudios Superiores de Diseño) in Monterrey, Mexico.
Jon has published widely in the design and business communities and speaks on the subject of design methods and design research. His articles have appeared in Fast Company, The Atlantic, Interactions Magazine, Design Mind, SDCT's Journal of Design and Creative Technologies, and Bloomberg Cities Network.
Jon holds a Bachelor of Fine Arts in Graphic Design from The State University of New York at Fredonia and a certificate in User-Centered Design from UCLA's Extensions Program.
Contact Information